New Customer Exclusive!
Sign up to get your coupon via text
*US customers only. By signing up and clicking "Send My Coupon", you are agreeing to receive up to 5 SMS messages per month and marketing emails from Micro Center to the information that you provided at the time of signing up. You will receive premier access to our best offers, exclusive deals, alerts about new products, and more. Carrier message and data rates may apply. For help, text HELP to 41091. To opt-out, text STOP to 41091. To
unsubscribe
from email, see our
Privacy Policy
and
Micro Center's Mobile T&C.
FREE 256GB SSD
New customers only. Limit one coupon per person.
In-store Only. While Supplies Last. Check availability here.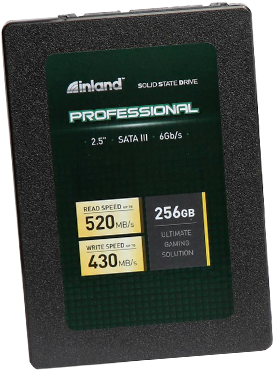 ★★★★★
Get SSD speeds and inject new life into your PC with an SSD from Inland Professional.

• SATA III 6Gb/s
• Up to 530MBps Read Speed
Offer only valid at Micro Center retail locations. Coupon cannot be used with other coupons. No coupons available at the store. Coupon is serialized / one-time use only. Coupon not redeemable for cash. New customers only. Limit one coupon per customer. While supplies last. Coupon only valid for skus 103929 and 357236.
Offer FAQ
Is the coupon item in stock? And what brand/model is the coupon for?
Please check our website for up-to-date information about stock and item specifications!
Inland Professional 256GB SSD
Inland Platinum 256GB SSD

How long does it take to receive the text message after submitting?
Typically, it may take up to 3-5 minutes to receive a coupon by text.

Which locations are participating in this promotion? Am I able to have this shipped to me?
All Micro Center stores are accepting this coupon. The coupons can only be redeemed in-store.

How do I use the coupon?
To use this coupon, please bring either a digital or a physical copy of the barcode into any Micro Center location.
When does the offer expire?
The coupon expiration date is listed in red text on the coupon or while supplies last.

Can you hold the coupon item?
Some items are available for reservation using our website. To do so, add the eligible item to your cart and select the in-store pickup option at checkout. Your order will be held for three days. Be sure to bring your coupon, as it cannot be used on the website.

What is the catch; do I have to buy something?
No catch or purchase is necessary to claim this coupon!

Can I use more than one coupon?
Coupons are limited to 1 per customer.
---
Find your nearest Micro Center

Enjoy a Big Selection
New expanded departments – Mobile, Electronics, DIY Parts, PCs and more
Still all the best brands, bestsellers, hottest products and newest gear
All 35,000 online computing devices and electronics products are in store
Save Time
In-store pickup - reserve online for in-store pickup
Quick in and out - one stop shopping and lots of assistance
Easy access and plenty of free parking