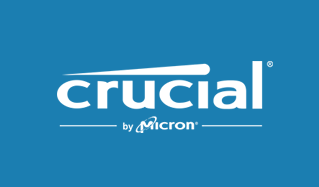 Crucial Memory
The memory and storage experts™
Crucial Products - memory and storage
As a brand of Micron, one of the largest memory manufacturers in the world, we manufacture our memory in-house to meet three key criteria: quality, compatibility, and selection.
The fast, easy way to improve your desktop's performance
There's an easy cure for a slow computer: more memory. Designed to help your system run faster and smoother, Crucial® Desktop Memory is one of the easiest and most affordable ways to improve your system's performance. Load programs faster. Increase responsiveness. Run data-intensive applications with ease, and increase your desktop's multitasking capabilities.
Accelerate your computer's performance with fast, reliable storage
If you need fast, reliable storage for your computer, look no further than Crucial's award-winning solid state drives (SSDs). With millions of customers and an average rating of 4.8/5 stars across 138,000 reviews1, Crucial SSDs deliver superior performance and proven Micron quality – backed by a robust 3 to 5-year warranty.