Find Your Perfect Surface
At the office, on campus, and anywhere in-between, there's a Surface designed just right for everything you do.
Surface Pro 8
Surface Pro X
Surface Go 3
Surface Laptop Studio
Surface 2-in-1s
Work and create on light, portable laptops with kickstand and removeable keyboard.
Surface Pro 8
The most powerful pro
Laptop power with tablet flexibility. Now with iconic Kickstand, detachable Keyboard, and larger 13" touchscreen
11th Gen Intel® Core™ Processors
120Hz refresh rate, Adaptive color, and Dolby Vision®
Two USB-C® and Thunderbolt™ 4 ports
Built-in 5.0MP HD and 10MP 4K cameras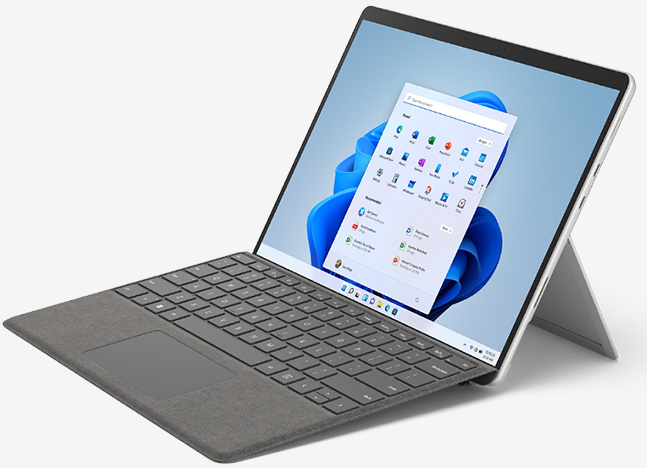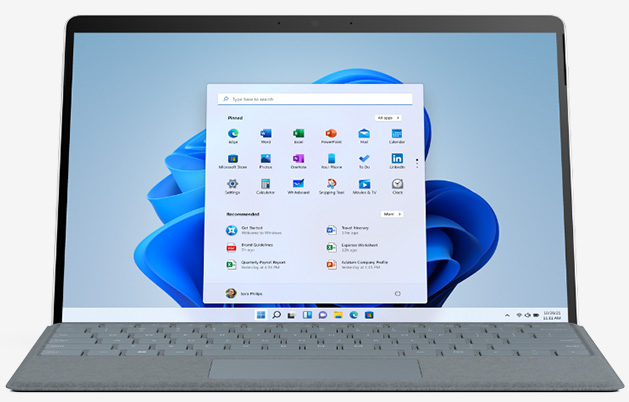 Surface Pro X
Light, fast, always ready
Meet the totally mobile pro, with 13" touchscreen, built-in Kickstand, optional Gigabit LTE
Custom-built, 8-core Microsoft processor
Industry-leading Kickstand adjusts nearly 180 degrees
Thinnest and lightest Pros, starting at 1.7 pounds1
Fast connectivity, plus battery life designed to last
Surface Go 3
Ready, set, Go anywhere
The most portable 10.5" Surface touchscreen 2-in-1. Perfect for your everyday tasks, homework, and play.
Choice of Intel® Pentium™ or Intel® Core™ i3 Processor
Up to 11 hours of on-the-go power
USB-C® port, headphone jack, Bluetooth 5.0, and Micro SDXC Card Reader
Starting at just 1.2 pounds, with adjustable Kickstand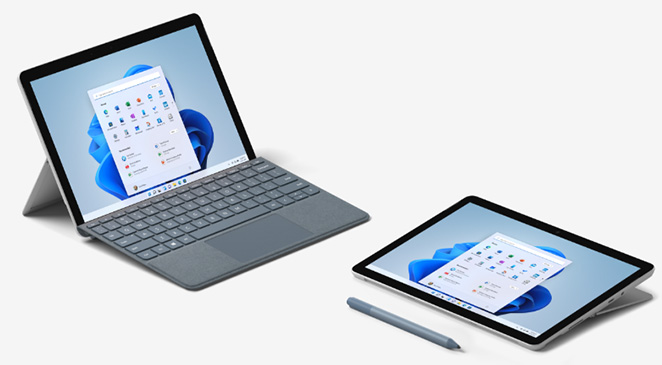 Surface Laptops
Traditional designs with attached keyboard.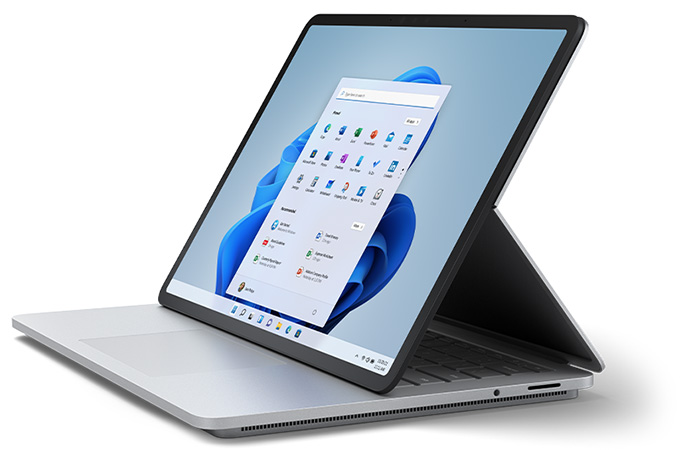 Surface Laptop Studio
Incredible performance.
Infinitely flexible.
The most power Surface laptop yet, with boundary-pushing design and beautiful 14.4" touchscreen.
Quad core 11th Gen Intel® Core™ i3 Processors
Graphics powered by NVIDIA® GeForce RTX™ 3050 Ti
120Hz display with Dolby® Vision and Quad Omnisonic Speakers
Speed through intensive desktop software, gaming, and more
Find the right Surface Device for You

2-in-1

Light and portable, with kickstand and removable keyboard

Laptop

Traditional design with attached keyboard

Surface Go 3

Surface Pro 8

Surface Pro X

Surface Laptop Go

Surface Laptop 4

Surface Laptop Studio

Operating System

Windows 11 in S mode

Windows 11 Home

Windows 10 Home on APM (LTE only); Free Upgrade to Windows 111 when available (see below), or Windows 11 Home on ARM2 (Wi-Fi only)

Windows 10 Home in S mode; Free Upgrade to Windows 111 when available (see below)

Windows 10 Home; Free Upgrade to Windows 111 when available (see below)

Windows 11 Home

Processor

Intel® Pentium® Gold or 10th Gen Intel® Core™ i3

11th Gen Intel® Core™ i5 or i7

Microsoft SQ® 1 or Microsoft SQ® 2

10th Gen Intel® Core™ i5

11th Gen Intel® Core™ i5 (13.5" only) or i7; AMD Ryzen™ 5 with Radeon™ Graphics (13.5" only); AMD Ryzen™ 7 with Radeon™ RX Graphics (15" only)

11th Gen Intel® Core™ i5 or i7

Memory

4GB or 8GB

8GB, 16GB or 32GB

8GB or 16GB

4GB or 8GB

8GB, 16GB, or 32GB

16GB or 32GB

Storage1

eMMC: 64GB; SSD: 128GB

SSD: 128GB, 256GB, 512GB or 1TB

SSD: 128GB, 256GB or 512GB

eMMC: 64GB; SSD: 128GB or 256GB

SSD: 256GB, 512GB or 1TB

SSD: 256GB, 512GB, 1TB or 2TB

Battery Life

Up to 11 hours4

Up to 16 hours4

Up to 15 hours4

Up to 13 hours4

Up to 19 hours4 (13.3") or 17.5 hours4 (15")

Up to 19 hours4

PixelSense™Display

10.5" Touchscreen

13" Touchscreen

13" Touchscreen

12.4" Touchscreen

13.5" or 15" Touchscreen

14.4" Touchscreen, 120Hz refresh rate

Pen2 enabled

Yes

Yes

Yes

Yes

Yes

Graphics

Intel® UHD Graphics 615

Intel® Iris® Xe Graphics

Microsoft SQ®1 Adreno™685 GPU or Microsoft SQ® 2 Adreno™690 GPU

Intel® UHD Graphics

Intel® Iris® Xe Graphics (with Intel® Core™ processor); AMD Radeon™ Graphics (with AMD Ryzen™ processor)

Intel® Iris® Xe Graphics( i5); NVIDIA® GeForce RTX™ 3050 (i7)

LTE

Available with LET Advanced®6

Available with Gigabit LTE®4

Camera

Front 5.0MP / Rear 8.0MP HD

Front 5.0MP / Rear 10.0MP HD and 4K

Front 5.0MP / Rear 10.0MP HD and 4K

720P HD

720P HD

720P HD
[1] Upgrade rollout plan is being finalized and is scheduled to begin late in 2021 and continue into 2022. Specific timing will vary be devices. Certain features require specific hardware, see https://www.microsoft.com/windows/windows-11-specifications.

[2] Wi-Fi models of Surface Pro X Home with Windows 11 Home on ARM. LTE models of Surface Pro X come with Windows 10 Home on ARM. Windows 10 on ARM does not install 64-bit applications that have not been ported to ARM. At this time, Surface Pro X with Windows 11 Home on ARM will not install some games and CAD software, and some third-party drivers or anti-virus software. Free upgrade to Windows 11 when available. The Windows 11 upgrade will be delivered to qualifying devices late 2021 into 2022. Timing varies by device. Certain features require specific hardware (see aka.ms.windows11-spec). Find out more in the FAQ.

[3] System software and updates use significant storage space. Available storage is subject to change based on system software updates and app usage. 1GB=1 billion bytes. See Surface.com/Storage for more details.

[4] Battery life varies significantly based on usage, network and feature configuration, signal strength, settings and other factors. See aka.ms/SurfaceBatterPerformance for details.
[5]Pen experiences and compatibility vary by which device you are using it with. Sole separately. Visit aka.ms/Surface or speak with a Retail Pro to learn more.

[6] Service availability and performance subject to service provider's network. Contact your service provider for details, compatibility, pricing, SIM card, and activation. See all specs and frequencies at surface.com