Audio-Technica

Audio-Technica Headphone Hanger
Overview
The AT-HPH300 Headphone Hanger from Audio-Technica is a convenient tool for safely storing your headphones in areas where space is limited. The hanger features an adjustable clamp that mounts securely to a shelf, desk, or other surface up to 1.4? thick. The hanger rotates 360, allowing you to store headphones unobtrusively under the desk or shelf, or have out and ready to quickly grab when needed. Thanks to the hangers soft leatherette pad, the headphones are prevented from getting scratched or damaged.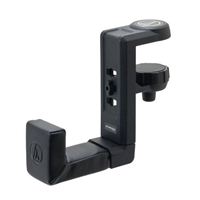 Audio-Technica Headphone Hanger
Usually ships in 1-3 business days.