Logitech G

Logitech G Saitek Pro Flight Switch Panel
Overview
Logitech G Saitek Pro Flight Switch Panel contains multiple in cockpit controls giving you the next step to replicating the functionality of an actual aircraft in your flight simulation setup. Nothing beats the satisfying click of an actual control lever, plus with LED indication of any potential faults with your aircraft you will know if it is safe to touch down. Just as with the landing gear lever, nothing beats turning a dial like the one in a real aircraft to start your engines and get your flight under way. Modular and interchangeable. Saitek's range of instrument panels can be situated one on top of another or side-by-side. Easy-to-use mounting brackets provide the means to arrange your flight simulation setup in a configuration only limited by your imagination.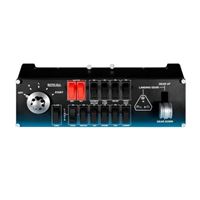 Logitech G Saitek Pro Flight Switch Panel
Usually ships in 5-7 business days.