MSI

MSI Agility GD30 Large Gaming Mouse Pad
Overview
The Silky Gaming Fabric not only allows flexible, accurate control to mice but also gives you an incredibly smooth user experience with low friction. Giving you the sensation of gliding effortlessly. Special silky texture with 28 stitches per inch provides extra soft and comfortable touch to your hand, especially during long gaming sessions. The stitched edges reinforce the outline of the mousepad, extending durability. They also prevent the edges from curling up. An anti-slip and shock-absorbing rubber base helps to stand ground in games and guarantees a longer lasting mat.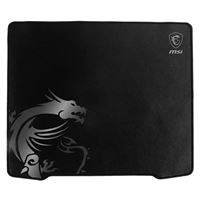 MSI Agility GD30 Large Gaming Mouse Pad
Usually ships in 5-7 business days.