XPower

XPower Airrow Pro A-2 Multi-Use Electronic Air Duster - Black
Overview
The Airrow Pro A-2 Multi Use Blower is a lightweight and compact air blower that includes 8 air flow nozzles for endless applications. Mort than just a replacement for canned air dusters, the XPOWER Airrow Pro provides you the power and flexibility to dust, pump air, and dry a variety of surfaces. Unleash over 500 watts of power to blast away dust from window blinds, keyboard and electronics, underneath appliances and so much more. Powered only by electricity, the Airrow Pro is free of dangerous fluorocarbons and other deadly inhalants or propellants.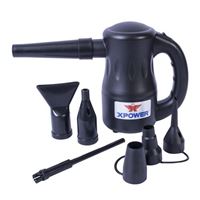 XPower Airrow Pro A-2 Multi-Use Electronic Air Duster - Black
Usually ships in 5-7 business days.