CAIG Laboratories

CAIG Laboratories DeoxIT Shield SN5 Mini Spray
Overview
Seals, lubricates and protects metal surfaces against oxidation and contamination. It is also ideal where high degrees of pollution (sulfur, salts, acids, etc.) are present. DeoxIT Shield S-Series should be applied to a clean surface - after using DeoxIT D-Series or other cleaning method.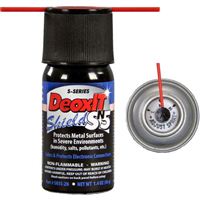 CAIG Laboratories DeoxIT Shield SN5 Mini Spray
Usually ships in 5-7 business days.