Adesso

Adesso Magnetic Stripe Card Reader
Overview
The Adesso MSR-100 magnetic stripe card reader is used to read and transmit data from any magnetic card that is swiped. It has an excellent Electro--Static discharge and electromagnetic compatible. It is widely used in all different areas such as POS terminals, poster terminals, access monitoring, attendance records etc...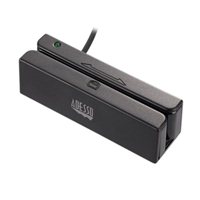 Adesso Magnetic Stripe Card Reader
Usually ships in 5-7 business days.