QVS

QVS High Speed HDMI UltraHD 4K Angle Adapter (5-Pack)
Overview
Eliminate cable bend & mount HDTV closer to the wall with HDMI flex adapters. Features flexible cable with low profile connectors for tight space installation, and corrosion resistant gold contact & shielded to maintain signal integrity. The up-angle, left-angle, right-angle and straight adapters work with horizontal or vertical HDMI port while down-angle adapter works with horizontal mounted HDMI port only.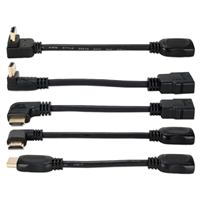 QVS High Speed HDMI UltraHD 4K Angle Adapter (5-Pack)
Usually ships in 1-3 business days.