Credit Cards Accepted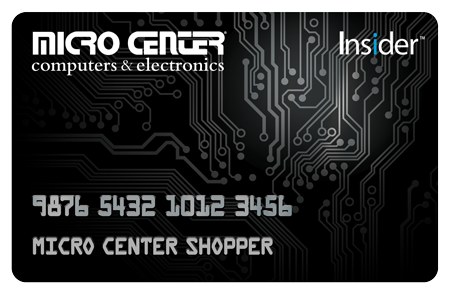 At Micro Center stores, you can shop using your Micro Center Insider® Credit Card.* On microcenter.com, you can shop using MasterCard, VISA, American Express, Discover® Network Card, Diners Club and debit cards. Micro Center and Micro Center Online are based in the state of Ohio, USA.
* The Micro Center Insider® Credit Card is issued with approved credit by Wells Fargo Bank, N.A. For your protection, Micro Center is no longer allowing Micro Center Insider® Credit Card transactions without your actual card being present. Please bring your Micro Center Insider® Credit Card into the store to enjoy our promotional offers.
Credit card purchases
During the checkout process, you have two options:
Pay using a credit card.
Pay using a debit card. PLEASE NOTE: your debit card will be authorized for the total amount. If the order is cancelled, your bank or financial institution determines when the authorization hold will be released and funds made available.
Personal checks
Personal checks are accepted at Micro Center® stores, provided adequate identification is available. "Starter" checks are not accepted. Micro Center stores do NOT accept personal or business checks drawn on foreign checking accounts.