THE MICRO CENTER INSIDER® CREDIT CARD
5% will be taken off instantly on purchases at the register!†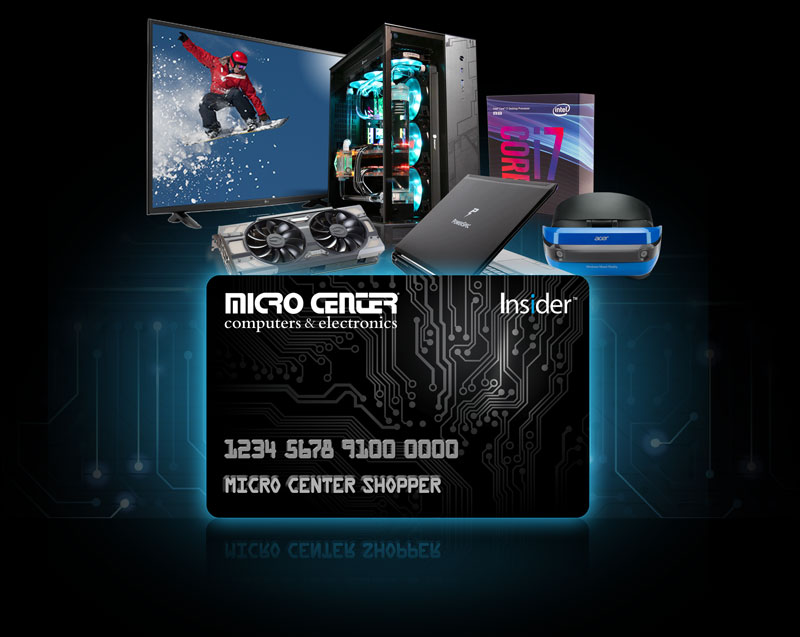 Or Special Financing with qualifying minimum purchase*
It's a new way to get more value at Micro Center.
COMING SOON to your Micro Center!
Apply privately on your mobile device now and get a decision in seconds!*
TO AVOID POTENTIAL APPLICATION DELAYS:
1. Remove any credit locks / freezes from your account prior to applying
2. When asked to enter your "home phone number," please use your PRIMARY phone number
To make your Insider Card shopping easier, please choose your Micro Center store.
*Subject to credit approval. Credit offers cannot be combined. Minimum purchase required for financing. Ask for details. Some exclusions apply. In-store only. Message and data rates may apply.

† 5% off does not apply to the following: tax; recycling fees; bottle deposits; bag fees and taxes; ship out orders; gift cards not associated with a product or serving as a product replacement and certain items that have no SKU or UPC. If you use a Micro Center Insider Card in the same purchase transaction with another form of payment, the 5% discount will apply only to the purchase amount tendered to your Micro Center Insider Card.

PLEASE NOTE: Upon approval, your initial Insider Card purchase must be made at the store where you a) texted to apply or b) at the store selected from the online dropdown menu. 5% off not applicable to ship out orders.

1 Monthly payment is based on purchase price alone excluding taxes. Credit purchases subject to credit approval. Other transactions may affect the monthly payment.

2 Special terms for 24 months apply to qualifying purchases of $749.99 or more charged with approved credit. The special terms APR will continue to apply until all qualifying purchases are paid in full. The monthly payment for this purchase will be the amount that will pay for the purchase in full in equal payments during the promotional (special terms) period. The APR for Purchases will apply to certain fees such as a late payment fee or if you use the card for other transactions. For new accounts, the APR for Purchases is 28.99%. If you are charged interest in any billing cycle, the minimum interest charge will be $1.00. This information is accurate as of 06/28/2020 and is subject to change. Offer expires 10/03/2020