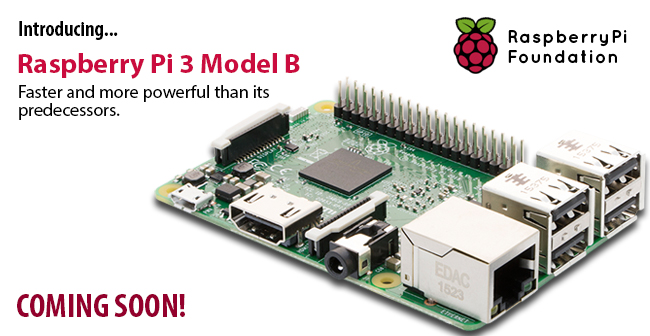 Built on the latest Broadcom 2837 ARM 64-bit processor, the new generation Raspberry Pi 3 Model B is faster and more powerful than its predecessors.
It has improved power management to support more powerful external USB devices and the new Raspberry Pi 3 now comes with built-in wireless and Bluetooth connectivity.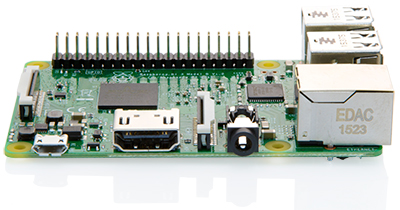 Features & Benefits
Improved Performance
Next generation QUAD Core Broadcom BCM2837 64bit ARMv8 processor
Processor speed has increased from 900MHz on Raspberry Pi 2 to 1.2GHz on Raspberry Pi 3
Improved Connectivity
BCM43143 WiFi on board
Bluetooth Low Energy (BLE) on board
Improved Power Management
Upgraded switched power source up to 2.5 Amps (support even more powerful devices over USB ports)
Bluetooth Low Energy (BLE) on board
Essential Accessories for Raspberry Pi 3
New 16GB NOOBS Micro SD card
The easiest and quickest way to get started with Raspberry Pi. Recommended for first time Pi users, the Transcend 16GB MicroSD card comes pre-loaded with the official Raspberry Pi New Out of Box Software (NOOBS) package featuring a choice of seven recommended Raspberry Pi Operating Systems including:
Raspbian
Open ELEC
OSMC
Windows 10 IoT Core
Arch Linux
Pidora
RISC OS
Transcend 16GB MicroSD card Class 10 also contains an SD card adapter for use on all Raspberry Pi boards.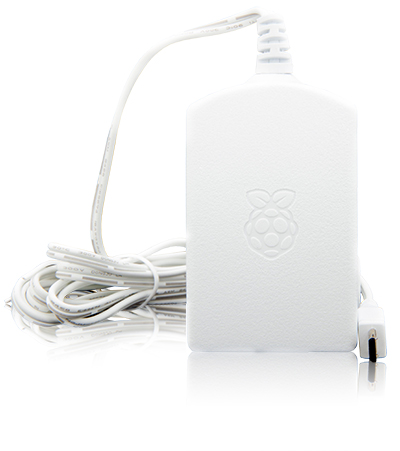 2.5 Amp International Power Supply Unit
The official and recommended universal USB micro power supply for Raspberry Pi. This power supply has been specifically designed to take full advantage of the improved power management on the Raspberry Pi 3 board. Features include:
1.5m micro USB B Lead
Interchangeable heads for different regions 50,000 hours MTBF
ErP level 6 efficiency rating
Suitable for use with all Raspberry Pi boards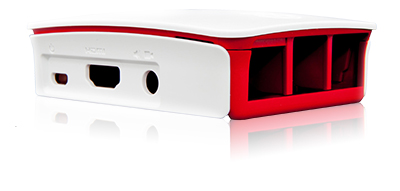 Official Raspberry Pi Case
Beautifully crafted, this red and white snap-together case is designed to protect your Raspberry Pi 3 Model B. The five-part enclosure has removable side panels to enable access to the GPIO. Features include:
Raspberry Pi red and white colors
Five-part enclosure
External dimensions: length 96mm, width 71mm, depth 26mm
Cut-outs for all connection points and MicroSD card cut-out
Plastic LED light protector
Stick-on rubber feet for stability
Check back often. Raspberry Pi 3 Model B is coming soon!