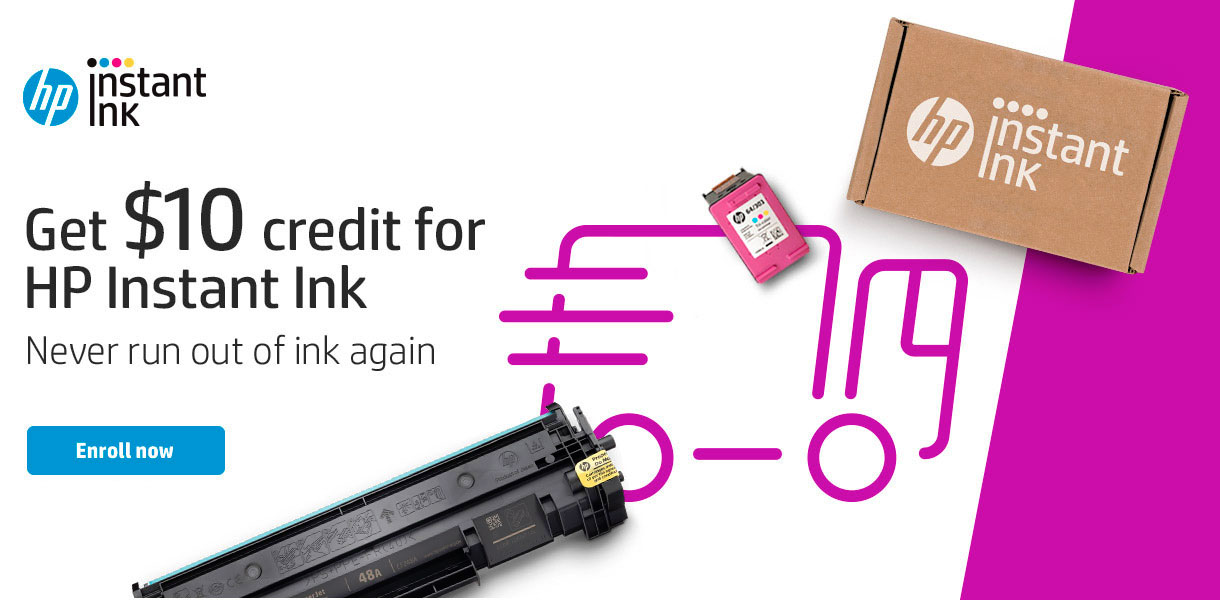 What is HP Instant Ink?
Smart Ink Subscription that delivers ink the moment you need it for up to 50% less

Never run out
Drop used cartridges in our prepaid envelope. We handle the rest

Save up to 50% on ink or toner
Instead of buying cartridges you pay a low monthly fee that includes ink or toner and delivery from $0.99 a month.

Ultimate flexibility
Your printer lets us know when it's running low on ink and we send ink or toner before you run out.

Hassle-free recycling
Drop used cartridges in our prepaid envelope. We handle the rest.
Discover the printing plan that works for you.
Print a little or a lot, there's an option for everyone. Starting as low as $0.99 a month.
Ink plans

Toner plans for laser printers


FAQ
What do I get?
Once enrolled, you'll receive a Welcome Kit delivered to your door. The ink or toner cartridge you receive is special and only works with HP Instant Ink. Your next shipment of ink or toner will be sent only when ink or toner levels are low, not monthly. No need to worry, because your printer drops us a note and your next set of cartridges will be automatically dispatched. Simply return the old cartridges with prepaid recycling.
---
How do I pick a plan?
The best plan is based on your usage. If you don't know how much you print, no worries, you can change or cancel your plan at any time, at no extra cost. Your dashboard in the HP Smart app will help you keep track of the number of pages you've printed for the month.
---
How do I save?
We make larger cartridges with less packaging, only ship before ink or toner is needed, and recycle cartridges. HP passes these savings on to you and the environment. With ink, go ahead and print in color because color prints are the same price as black and white.
---
What if my printing varies?
Don't worry. You can change or cancel your plan anytime. And there's no annual fee. If you print less one month, pages roll over. If you print more, then you can purchase extra.
---
How do I get started?
If you already have an Instant Ink-eligible printer, click here to enroll now and get your $10 credit towards an HP Instant Ink subscription. Click here to see if your HP printer is eligible. If you need an eligible printer, then click here for a list of HP printers to choose from.
---
What happens to my unused pages?
If you do not use all your plan pages in a month, the unused pages will be kept in your account as rollover pages. Ink plans can roll over 3x the number of pages in your plan (150 pages if on the 50-page plan) and toner plans can roll over 2x the number of pages (100 pages if on the 50-page plan).