THIS CHANGES EVERYTHING.
THE MOST ADVANCED PROCESSOR FOR GAMERS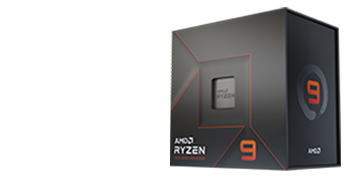 Core Components
CPU Cooling
Heatsink
Please confirm the heatsink selected supports the socket type of the motherboard
Please select a Motherboard first.
Water Cooling Accessories
Welcome to the AMD Custom PC Builder
Ready to build your own PC?
You've come to the right place! Use our AMD Custom PC Builder to research and pick PC parts from the thousands of components we have in stock. You can use this to create a gaming PC build with streaming capabilities, or a machine that's specific to your business.
Next Steps
Once you've configured your PC, you can: Save your parts list in the Build Dashboard for later, Share your parts list in our Community Forum, reddit or other forums to get feedback, print it as a shopping list or view a store map to visit one of our stores, add to cart to reserve your choices for in-store pickup.
Enthusiast PC Builders
For the enthusiast PC builders, you can create and save multiple parts lists in your Build Dashboard. Then once you've built your custom PC, don't forget to submit it to the Build Showcase to show it off and help inspire others with your selection and creativity.
AMD PC Builder FAQs
Do I need an aftermarket fan?
While the stock CPU coolers that come bundled with many AMD processors can properly cool your CPU, you may also consider going with an aftermarket cooler. If you're looking to squeeze the most performance out of your CPU, an aftermarket fan is a great upgrade to make.
What type of chip sockets does AMD use for their processors?
AMD processors use Socket AM4.
What do cores/threads mean for AMD processors?
Cores and threads are both measures of the performance of a processor. Cores are the actual calculation engines within a processor, while threads refer to the number of tasks that can be run at once. Some applications can use multiple threads like gaming and rendering. Depending on your workload, AMD has the perfect processor for your system, with options from 6 to 64 cores.
What do the letters at the end of the processor mean?
The suffix at the end of an AMD processor denotes the performance and type of processor:
X = High-performance
No suffix = Standard desktop processor
G = Desktop processor with on-chip graphics
GE = Energy efficient desktop processor with on-chip graphics
How do AMD CPUs overclock?
Every AMD Ryzen™ processor is multiplier-unlocked, so you can personalize performance to your taste. In addition, available on all AMD Ryzen™ 5000 Series and select 3000 Series processors, Precision Boost Overdrive makes automatic overclocking possible with increased clockspeed and power limits at the touch of a button. Precision Boost Overdrive is also easy to use thanks to one-touch activation in the BIOS or via AMD Ryzen™ Master.
What is the difference between Ryzen™ and Threadripper™ processors?
AMD Ryzen™ refers to all current Socket AM4 desktop processors. These processors have up to 16 cores / 32 threads with a max boost clock up to 4.9GHz and up to 100MB of cache, perfect for gamers and creators. AMD Threadripper™ desktop processors are high-end desktop processors that use Socket TR4. These powerhouse processors have up to 64 cores / 128 threads, max boost clock up to 4.5GHZ, up to 288MB of cache and support quad-channel memory. Threadripper™ CPUs are most often used in workstation computers.
What is Smart Access Memory?
AMD Smart Access Memory enables AMD Ryzen™ 5000 Series or select 3000 Series processors to harness the full potential of an AMD Radeon™ 6000 Series graphics card memory to boost system performance.
How do AMD CPUs attach to the motherboard?
Watch the video below for a step by step process of installing AMD CPUs.
*The Custom PC Builder is designed to assist you in compiling a list of components to build a PC. Although every effort has been made to ensure compatibility, it is not guaranteed. As such, we strongly recommend visiting the store to discuss your completed list with one of our highly trained Associates.
Estimated power consumption shown above is a general guide. Actual numbers will vary depending upon additional components chosen and which games or applications are running. Many power supplies run at their peak efficiency at around 50% load, however, our store associates will be happy to help you select the right power supply for your needs.