Intel

Intel Core i5-12600K Alder Lake 3.7GHz Ten-Core LGA 1700 Boxed Processor - Heatsink Not Included
Save $20 when bundled with a compatible eligible motherboard
Available for In-Store Pickup Only.

Overview
Buckle up for the next level in gaming speed and efficiency. The Intel Core i5 12600K Processor system provides a total of 10 cores exclusively for performance and efficiency to make any task quick and smooth for the user. Furthermore, the four efficient cores increase multi threaded performance and reduce unwanted interruptions from background applications. This allows secondary apps to run efficiently in the background without affecting the task at hand.
There are also six performance cores with a base level of 3.7 GHz and a max speed of 4.9 GHz. These increase the system's workability across single and lightly threaded workloads, maximizing productivity and gaming activities. The 10 cores work together seamlessly as the efficient cores complete background tasks for your multi tasking. The performance cores focus solely on your gaming and content creation applications to boost speed without being distracted.
The i5 12600k processor comes out of the box unlocked, meaning that it is fully overclockable. Overclocking allows you the ability to adjust the power, voltage core, memory systems and other key system values. This can speed up your components, which in turn, can improve gameplay and other processor intensive tasks.
The Intel Thread Director ensures that the resources are managed and allocated properly. This ensures that the performance cores handle high priority tasks while the efficient cores handle everything else.
There are 20 lanes of CPU PCIe, a 4.9 GHz performance core Turbo Boost 2.0 frequency with 20MB of cache, and it is compatible with 600 series chipset motherboards. In addition, the integrated Intel UHD 770 Graphics provides speedy, quality performance for high grade graphics.
Support is available for 7680 x 4320 resolution 8K monitors or up to four 3840 x 2160 resolution 4K displays with dynamic range. There is also support for DDR5 memory at 4800 MHz, which delivers unrivaled performance. For those looking to elevate their performance and future proof their rigs, the Intel Core i5 12600K is perfect for you.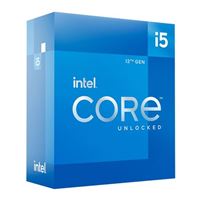 Intel Core i5-12600K Alder Lake 3.7GHz Ten-Core LGA 1700 Boxed Processor - Heatsink Not Included
Available for In-Store Pickup Only.