Overview
The Live Gamer MINI is here to help you get into your streaming spotlight as quick and easy as possible! Following the steps of its predecessor (LGP Lite) the LGM keeps things nice and simple. Dont be fooled by its size, the LGM has a H.264 hardware encoder built into its core. And its compact form factor allows you to just put it in your pocket and move any location to setup your next stream as easy as possible. The LGM takes full advantage of UVC technology, which basically standardizes video drivers across Windows and Mac. In other words, all you need to do is plug your LGM to your PC or Mac and it is ready to record and stream.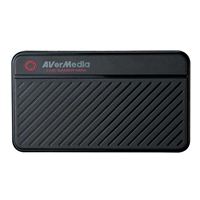 AverMedia Technologies Live Gamer MINI
Usually ships in 5-7 business days.