Overview
The sequel to the most popular guitar interface of all time With over 1 million iRig interfaces sold and over 20 million apps downloaded, iRig 2 represents the next stage in the mobile music revolution for iPhone, iPad, iPod touch, Mac, PC and select Android devices. iRig 2 sports a new 1/4 output jack for seamless live performance integration. An added switch allows dual-mode operation: FX lets musicians process and send their signal to an external amplifier without an adaptor. THRU sends a clean signal, letting musicians use their mobile device as a tuner, recorder or other utility. iRig 2's new input gain control pot can be adjusted to provide optimum sound quality when using different instruments and mobile devices. iRig 2 comes with AmpliTube, a powerful multi-effects processor with an integrated music player, a dedicated recorder, a tuner and a vast collection of ultra-realistic digital models of some of the most famous amplifiers and stompbox effects of all time. Now everyone can take their playing to the next level with iRig 2, the ultimate interface for mobile musicians.
The Next Stage in the Mobile Music Revolution
Features
Now everyone can plug in their guitar, bass or other instrument and enjoy killer tone on their iPhone, iPad, iPod touch or Mac — with the release of iRig 2, the world's most popular guitar interface is now better than ever before.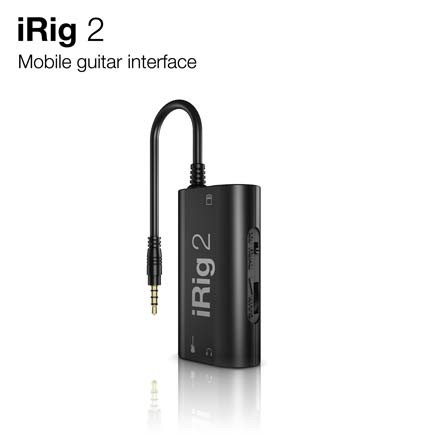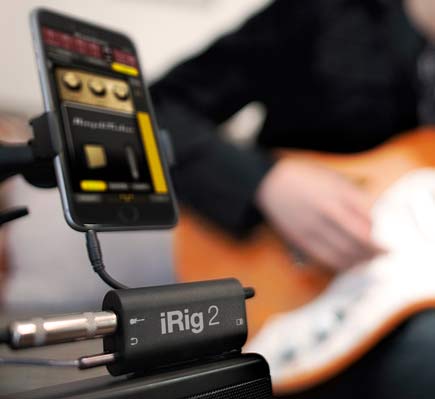 A True Plug-and-Play Experience
Plug and play simplicity on every device. If you loved iRig's versatility, you'll love iRig 2's new adjustable gain dial, which works with its built-in 1/8" TRRS output connector to give you a true plug-and-play experience with your iPhone, iPad, iPod touch or Mac. Volume levels vary from instrument to instrument and from device to device. And while the original iRig provided superior sound, it was limited in that you were unable to customize the input gain level to your particular setup.
The Power to Ensure High-Quality Sound
With iRig 2, you get an input gain dial that gives you the power to ensure high-quality sound in every situation. This means that you'll be able to perform at your best no matter whether you're connecting a wailing 3 humbucker electric guitar or a jazzy archtop to your iPhone. Likewise, its 1/4" instrument input works with your guitar, bass or any line-level instrument. Just plug into it like you would into a stompbox or amplifier. It's as simple as that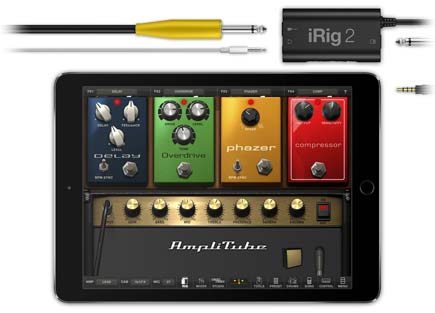 Compact, Lightweight Design
The sequel to the best-selling iRig interface
1/4" instrument input for use with guitar, bass and other line instruments
1/4" amplifier output for use with an external amplifier without an adaptor
1/8" TRRS output for use with iPhone, iPad, iPod touch and Mac
1/8" headphone output
Compact and lightweight design