PowerSpec PowerSpec 1530 15.6" Gaming Laptop Computer - Black

Intel Core i7-10875H Processor 2.3GHz; NVIDIA RTX 2070 Super Max-P 8GB GDDR6; 32GB DDR4-3200 RAM; 1TB Solid State Drive
Available for In-Store Pickup Only.

Overview
Intel Core i7-10875H Processor 2.3GHz
NVIDIA RTX 2070 Super Max-P 8GB GDDR6
32GB DDR4-3200 RAM
1TB Solid State Drive
Microsoft Windows 10 Pro
6-in-1 Card Reader
10/100/1000 Network
Intel Dual Band WiFi 6 802.11ax
Bluetooth 5.1
15.6" Full HD 240Hz Display
Your Super Power for gaming and all of your most demanding tasks. Featuring a 10th Gen Intel Core i7-10875H processor, NVIDIA GeForce RTX 2070 Super Max-P graphics, 32GB RAM, and a 1TB solid state drive.
---
Eligible for Free Upgrade to Windows 11 when available from Microsoft
This device comes with Windows 10 and is eligible for a free Windows 11 Upgrade. The Windows 11 Upgrade will be delivered online to qualifying devices starting in late 2021 and into 2022. Timing will vary by device. Certain features require specific hardware requirements be met. See Microsoft Windows 11 Specifications and Requirements for additional information.
---
Your Super Power For Gaming And All Of Your Most Demanding Tasks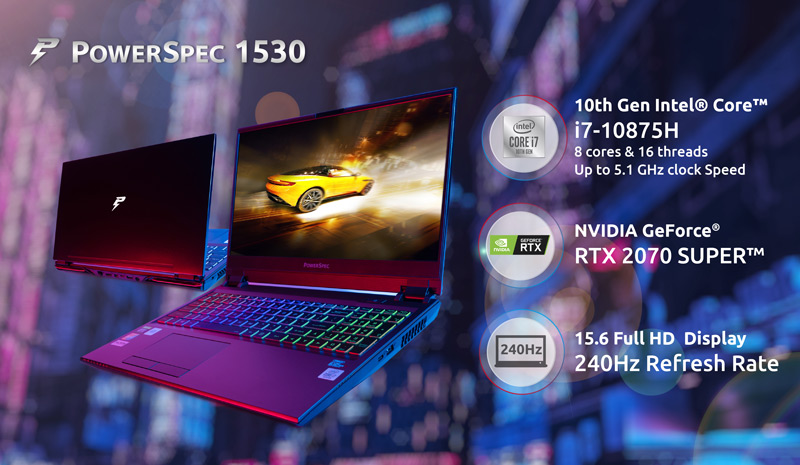 Intel® Core™ i7-10875H
The remarkable features, capabilities, and efficiency of this Intel 10th-gen mobile processor really optimize system performance for any task, entertainment, or play. The Core 10875H delivers a number of cutting-edge technologies uniquely designed for business, gaming, or streaming your favorite content. It's got 8 cores, 16 threads, a base frequency of 2.30 GHz, a max turbo frequency of 5.10 GHz, 16MB of Intel Smart Cache, inspired new capabilities, excellent expansion options, and important security features including:
Optane Memory supported: Quick access to essential data
Virtualization Technology: for multiple virtual platforms
Intel Secure Key: Data protection via encryption
Boot Guard: Protection from malicious software and attacks
Thunderbolt 3
It's no wonder a lightning bolt is used to denote Thunderbolt 3. It's lightning fast. The super advanced Thunderbolt 3 port is considerably faster than it's predecessors. It's also faster than other common technologies of today. Using a USB-C connection, it can enable dual 4K monitor video output at 60Hz with four times the bandwidth of HDMI. It can transmit data at up to 40Gbps, depending on configuration, so you can quickly share HD files between devices or back up large volumes of data in no time. And, it can even deliver up to 100 watts of charging power for your smartphone or laptop. That's a whole lot of power and versatility for a tiny port.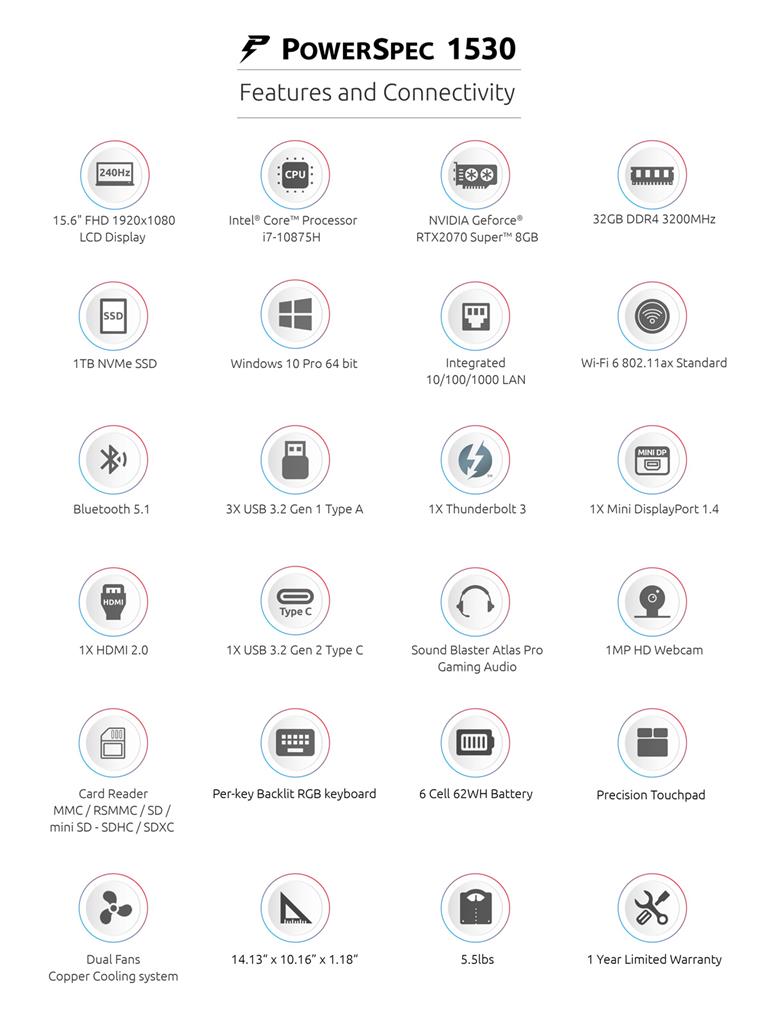 NVIDIA GeForce® RTX 2070 Super
Built on Turing architecture, the RTX 2070 Super delivers more than six times the performance of previous generation NVIDIA graphics cards. It features real-time ray tracing enabling cinematic quality graphics rendering, and is capable of powerful AI-enhanced graphics for exceptional realism. Specs include 14 Gbps memory speed, 8 GB GDDR6 frame buffer, and 1770 MHz boost clock.
The RTX 2070 Super also features NVIDIA Ansel and so you can capture 360 degree in-game photos. Just imagine your best game highlights recorded in high definition then stream them live or share them as videos or still images. NVIDIA Studio platform enhances your creative apps and takes your 3D animation, video, and photography to the next level. And it's packed with other great features like, DirectX 12, NVIDIA G-Sync with refresh rates up to 240Hz, game-ready drivers, and more.
DDR4 Memory
Double Data Rate, which is the DDR in DDR4, tells us something about the rate of data transfer in a given type of memory. The first number, as in DDR4, tells us the generation of the memory. DDR3 was the previous generation, DDR4 is the current generation. DDR4 offers faster data transfer rates than its predecessor. The second numeric value as inDDR4-1600- or DDR4-2666 is the speed. Memory type and speed must be matched to the requirements of your computer.
DDR4 has improved function compared with DDR3, in that it offers faster data transfer rates, It has more memory banks giving it increased capacity. It also requires less energy so it is more power efficient. The more capacity and the faster the speed, the better your memory is able to keep up with today's multi-core processors.
DDR form factors designate what they are used for. The DIMM form factor is used in desktop systems while the SO-DIMM form factor is used for laptops and all-in-one computers because of their slim profile.
Solid State Drive
More reliable and significantly faster than traditional spinning-platter hardrives, solid state drives work more like a large flash drive giving you quick access to your data. With no moving parts generating heat, solid state drives use less power and keep your system cooler which helps reduce component failure. Light weight and durable, solid state drives are often found in portable devices since they are less prone to travel damage and accidents like being dropped.
Windows 10 Pro
Windows 10 Pro is a sophisticated business operating system featuring an expanded Start menu, enhanced encryption technology with BitLocker for data protection and security management. Virtual machine capability enables you to run more than one operating system on a single PC, and remote log-in gives you access to your work while at home or on the road.
Like Windows 10, Windows 10 Pro combines the best elements of the Windows you already know, like the Start menu, with new features allowing space to pin your favorite apps and easy navigation so you'll feel right at home. Getting set up is faster and easier so you can get right to work or enjoy exploring the Windows App Store games or a new version of Office. InstantGo quickly boots up or resumes Windows while enhancements help balance memory and processor resources for maximum efficiency and Battery Saver automatically conserves power. Windows 10 also offers more built-in security features improving protection against viruses, phishing, and malware.
PowerSpec 1530 15.6" Gaming Laptop Computer - Black

Intel Core i7-10875H Processor 2.3GHz; NVIDIA RTX 2070 Super Max-P 8GB GDDR6; 32GB DDR4-3200 RAM; 1TB Solid State Drive
Available for In-Store Pickup Only.