Sescom

Sescom IL-19-2S Pro Audio Hum Eliminator Two Channel Inline With Isolation
Overview
Two-Channel inline XLR Male to XLR Female hum eliminator. Black anodized aluminum housing. Quick fix line isolation. Removes group loop hum, mode noise, and differentially induced hum. Line level equipment interface. Decoupling lines to reduce hum. Isolating drive line to on-stage power amps. Long line level cable runs.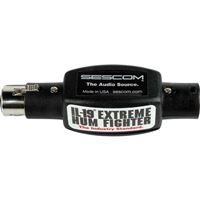 Sescom IL-19-2S Pro Audio Hum Eliminator Two Channel Inline With Isolation
Usually ships in 5-7 business days.