MacAlly

MacAlly Compact Wireless RF Keyboard for PC
Overview
The Macally RFCOMPACTKEY is a 2.4GHz compact wireless RF keyboard with a layout specially designed for PC. This keyboard is ultra slim and compact to save space on the desk and easily store inside a keyboard drawer. The additional shortcut keys further increase efficiency and productivity. The Macally RFCOMPACTKEY is very easy to use. Simply plug the RF receiver dongle into the USB port of your computer and you are ready to go! Also, no software is required! Thin, compact, and versatile, the Macally RFCOMPACTKEY is the perfect companion for your PC!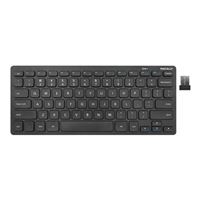 MacAlly Compact Wireless RF Keyboard for PC
Usually ships in 5-7 business days.