Business Solutions

Power. Performance. Potential.
Micro Center has been the industry expert in keeping our customers productive for over 40 years. Let our experts help you find the workstation or server to fit your exact needs. With high performance products, your system will be optimized for maximized productivity, whether for highly technical tasks or critical resource management.
With 25 locations nationwide, highly trained sales associates, small business services, and expertly picked preconfigured workstations, setting your business up for success has never been easier.
Our Expert Workstation Computer Selections
Intel XEON Workstations
Intel Silver Workstations from Micro Center are powerful Windows 10 Professional-based machines ready to take your work to the next level. Industry-leading Xeon Silver 4314 processors with 16 physical cores combine with 128GB of DDR4 RAM and lightning-fast NVME storage to make these machines powerhouses ready for any workload.
Intel Xeon Gold Workstations from Micro Center are some of the most powerful and reliable computers on the market today. Featuring powerhouse components such as a 24 core Xeon Gold 6312U processor and NVIDIA 3090 GPU, these machines are ready to tackle any task from complex simulations to detailed renderings.
XEON SILVER 4314 16-core CPU
SuperMicro Workstation 5039A-i
128GB DDR4 ECC RAM
1TB NVMe/2TBHDD
Windows 10 Professional
Warranty 3/3/3 labor parts ship*
Learn More
XEON GOLD 6312U 24-coreCPU
SuperMicro Workstation 5039A-i
128GB DDR4 ECC RAM
1TB NVMe/6TB HDD
Windows 10 Professional
3090 GPU Card
Learn More
SuperMicro Intel Workstations available only in these stores: Houston, Tustin, Denver, St. Louis Park, Madison Heights, Dallas, Columbus, Brentwood, Cambridge, Gwinnett, and Westmont. LIMITED QUANTITIES / IN-STORE ONLY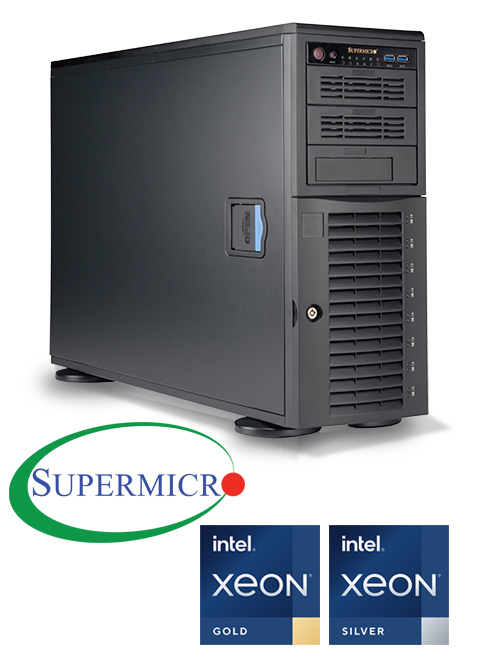 AMD TR Pro WX Workstations
The high-power Supermicro AMD Threadripper Pro Advanced Workstation is a powerhouse PC ready for any task. The Ryzen Threadripper processor with 16 cores combines beautifully with 64GB of high-speed DDR4 RAM and crushes such multi-threaded tasks as simulations, advanced rendering, and other resource-intensive workloads.
The Ryzen Threadripper 3975WX processor has 32 physical cores and utilizes the new sWRX8 AMD motherboard socket. These components offer top-of-the-line power and performance for any professional task ranging from detailed rendering to complex simulations.
AMD TR PRO 3955WX 16-core CPU
SuperMicro Workstation 5039A-i
64GB DDR4 ECC RAM
512 NVMe/2TBHDD
Windows 10 Professional
Warranty 3/3/3 labor parts ship*
Learn More
AMD TR PRO 3975W 32-core CPU
SuperMicro Workstation 5039A-i
128GB DDR4 ECC RAM
1TB NVMe/4TB HDD
Windows 10 Professional 3/3/3*
RTX4000 Graphics Card
Learn More
SuperMicro AMD Workstations available only in these stores: Houston, Tustin, Denver, St. Louis Park, Madison Heights, Dallas, Columbus, Brentwood, Cambridge, Gwinnett, and Westmont. LIMITED QUANTITIES / IN-STORE ONLY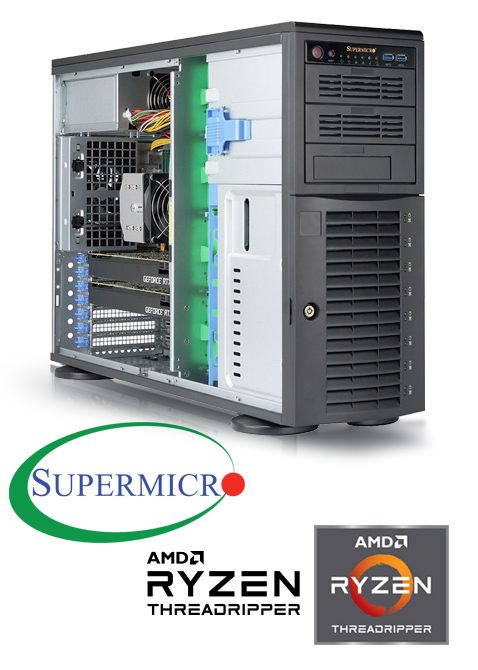 Dell Workstations
Bring your best ideas to life. Dell Precision tower workstations handle the most demanding applications across multiple industries. With fast memory, next gen graphics and extreme performance, your ideas are limitless. Precision workstations feature Dell Optimizer for Precision which uses Artificial Intelligence software to learn how you work and adapts to your style to create a smarter, more-personal experience. Dell Workstations feature Intel© Core™ processors.
3000 Series
Affordable tower workstations for professional performance.
5000 Series
Compact tower workstation for mission-critical performance and reliability.
Shop Dell Workstations
Dell workstation model availability varies by store location / LIMITED QUANTITIES / IN-STORE ONLY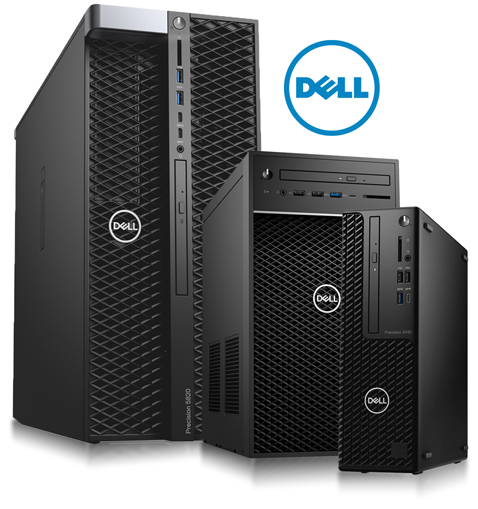 Business Solution Products
Every Top Brand. All in One Place.
Optimized for Top Performance
Media & Entertainment
Dassault SolidWorks
Autodesk AutoCAD
Autodesk Inventor
Autodesk Revit
Engineering & Architecture
ANSYS
Solid Edge
SketchUp
ARCHICAD
Data Science & AI
PTC Creo
Rhino
KeyShot
Lumion
Power Results
Get the workstation precisely for your performance needs. With Micro Center's wide variety of products and expert team of technicians, you can find workstations for any task from production to data science and engineering. Master your craft and take your work to the next level with a workstation from Micro Center.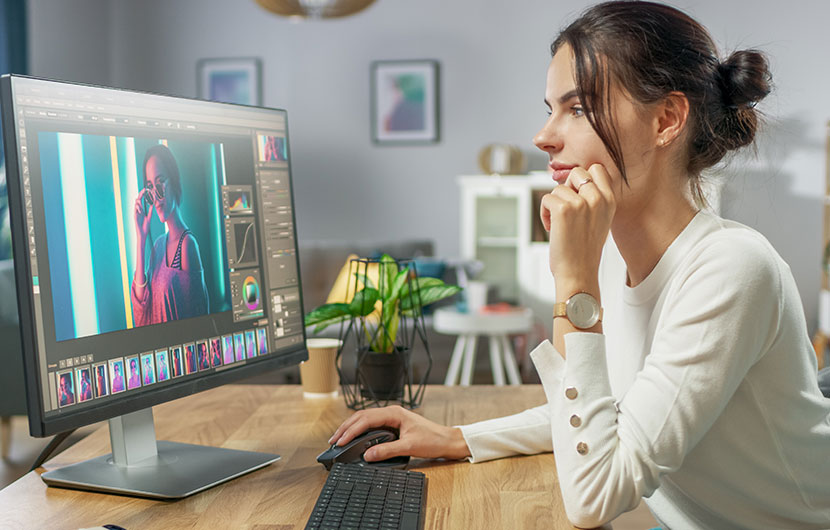 Media & Entertainment
Powerful machines that are built for content creation of any kind. These workstations can play and stream games on the highest settings using the latest graphics cards from NVIDIA and AMD. You can edit pictures and videos without ever worrying about running out of space thanks to these workstation's lightning-fast NVMe storage solutions.
---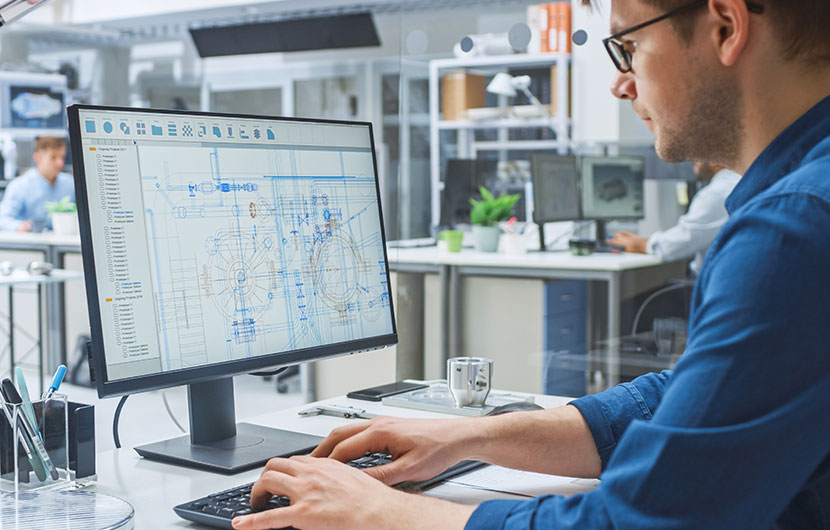 Engineering & Architecture
Industry-leading processors and video cards make these workstations perfect for complex design work and 3D model generation. The powerful components within these workstations can run the most resource-intensive software available or host programs for use by multiple users. Enjoy reduced render times and more efficient workdays thanks to the high-end build quality of these workstation PCs.
---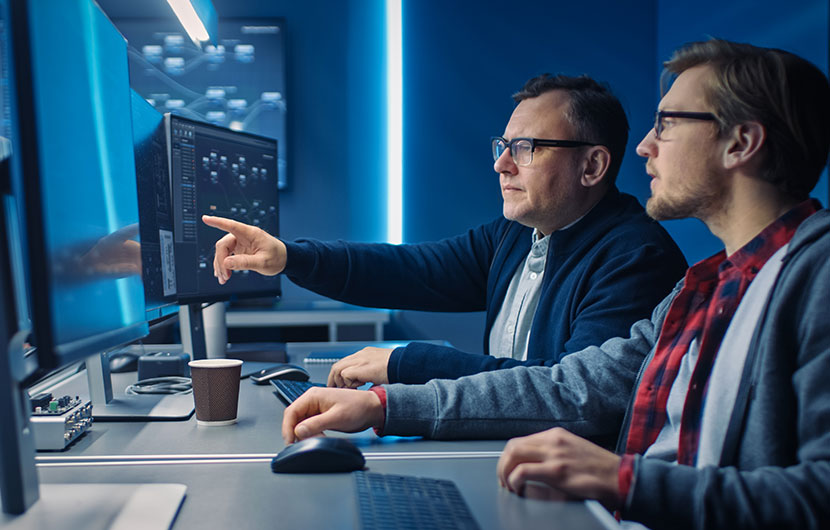 Data Science & AI
Sophisticated hardware setup by expert technicians allows for the automation of services and optimization of operations across numerous departments. The fastest NVMe storage on the market today will enable you to work with large data sets or complex calculations efficiently. Effortlessly and consistently analyze any amount of data with the latest processors from Intel and AMD.
Resources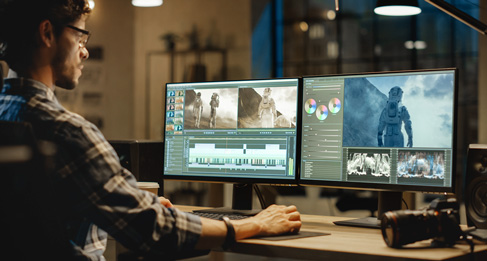 How a High-Powered Workstation Could Help Your Business
Workstation computers offer the highest power and speed on the market, which can do wonders for your business and in your day-to-day. We broke down some of the most common applications for workstations so you can get a better idea of how a workstation computer can help you succeed!
Learn More
---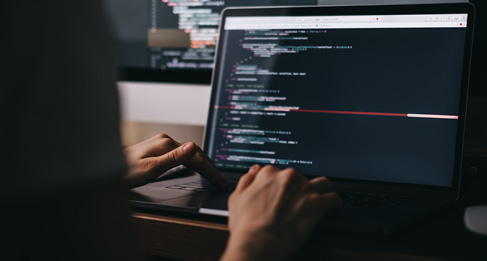 Boosting Productivity with a Workstation Computer
Workstation computers can streamline your work, but what goes into them, and how exactly do they help? We've walked through all the major components to workstation computers and explained how they'll let your business do more.
Learn More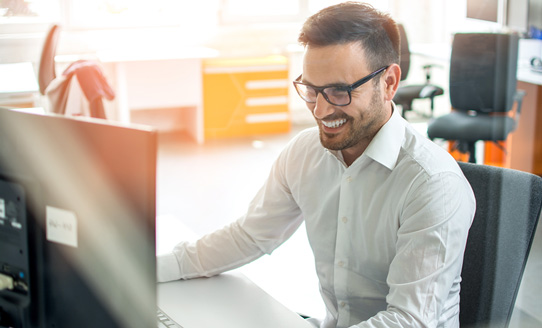 Built for Small Business
Workstation PCs have the power to handle multiple operations for small businesses. Storage solutions can safely house customer and employee data and reduce the cost of managed IT services. Infrastructure such as employee access and camera systems can also be managed from one central location. Workstations can work with your business to keep as many services in-house as possible and increase profits.
Do More with More Power
Multiple employees can utilize a single workstation to run software or access customer data securely. Storing programs and client information in a single physical location will also allow for the most cost-efficient and effective daily operations. Workstation PCs provide the power and consistency to positively impact your small business in many ways.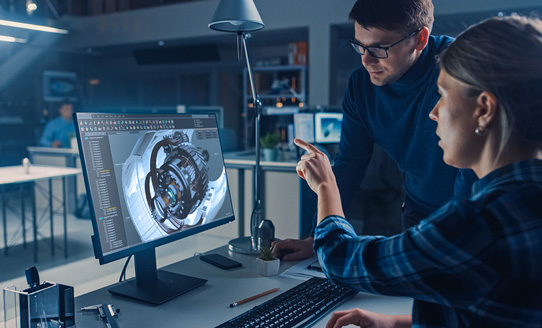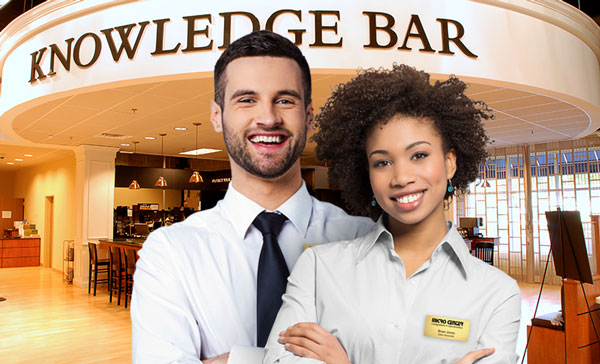 Our Experts
Micro Center's team of expert technicians have more than 40 years of experience working with the world's most sophisticated technology and are ready to put that knowledge to work for your business. You can rest assured that your workstation will maximize your productivity thanks to the expert advice of your Micro center associate.
Services
Our tech experts are here to help in store or remotely so you can get back up and running.
What's a Workstation Computer?
Workstations are high-performance PCs equipped with top-of-the-line multi-core processors, high-speed RAM, massive local storage solutions, and the most powerful graphics cards available. These machines are built to handle complex computational workloads and memory-hogging software. Workstations use multi-core CPUs, large amounts of RAM, and high-speed storage to optimize for extreme multitasking. An older definition also refers to workstations as computers connected to a mainframe computer. By this definition, the product category includes office computers as well as terminals and thin clients.
Uses of Workstation Computers
Workstation PCs are complex and powerful computers designed to tackle a wide range of professional tasks. These machines are commonly used for such tasks as 3D rendering, advanced animation, or analysis of large data sets. Workstation PCs are popular choices for many engineers, architects, or anyone with a specific need for complex computing. While workstations computers can function and even look similar to an office PC, they contain powerful internal components meant to run sophisticated applications.
Types of Workstations
Like laptops and desktops, workstation PCs come in many different variations that excel in numerous areas. Media and entertainment workstations are designed to create and edit content. These machines are great for podcasting, streaming, and many post-production tasks. Workstations for engineering and architecture are intended to run the most resource-intensive applications available as well as render highly detailed 3D models and designs. Data science and AI-focused workstations are some of the most powerful because they need to analyze massive data sets and run sophisticated automated services utilizing machine learning.