AMD

AMD Ryzen Threadripper 3970X Castle Peak 3.7GHz 32-Core sTRX4 Boxed Processor
Save $100 when bundled with a compatible eligible motherboard
Available for In-Store Pickup Only.

Overview
Fully realize your creative vision with the Ryzen Threadripper 3970X 3.7 GHz 32-Core TRX4 Processor from AMD, which has a base clock speed of 3.7 GHz and a maximum turbo frequency of 4.5 GHz. A member of AMD's 3rd generation of Ryzen processors, this processor features 32 cores with 64 threads in a TRX4 socket with 16MB of L2 cache memory and 128MB of L3 cache memory. Having 32 cores allows the processor to run multiple programs simultaneously without slowing down the system, while the 64 threads allow a basic ordered sequence of instructions to be passed through or processed by a single CPU core. This processor also has a TDP of 280W.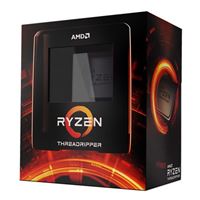 AMD Ryzen Threadripper 3970X Castle Peak 3.7GHz 32-Core sTRX4 Boxed Processor
Available for In-Store Pickup Only.