Adafruit Industries

Adafruit Industries FeatherWing Tripler Mini Kit
Overview
This is the FeatherWing Tripler - a prototyping add-on and more for all Feather boards. This is similar to our FeatherWing Proto except there are three! The magic of the Tripler comes when you want to connect your Feather to two other Feather Wings without needing any stacking headers!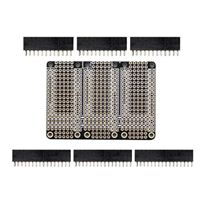 Adafruit Industries FeatherWing Tripler Mini Kit
Usually ships in 5-7 business days.