Adafruit Industries

Adafruit Industries MAX98357A I2S 3W Class D Amplifier Breakout
Overview
Listen to this good news - we now have an all in one digital audio amp breakout board that works incredibly well with the Raspberry Pi! If you're looking for an easy and low cost way to get you digital sound files bumpin' then the MAX98357 I2S Amp Breakout is for you. It takes standard I2S digital audio input and, not only decodes it into analog, but also amplifies it directly into a speaker. Perfect for adding compact amplified sound, it takes 2 breakouts (I2S DAC + Amp) and combines them into one.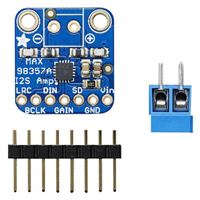 Adafruit Industries MAX98357A I2S 3W Class D Amplifier Breakout
Usually ships in 5-7 business days.