j5create

j5create JUH377NP USB 3.0 7-Port HUB
Overview
The JUH377NP USB 3.0 SuperSpeed 7-Port HUB allows up to seven USB 3.0 devices to be connected simultaneously at a transmission speed of 5 Gbps, while still providing connectivity and support for the older USB 2.0 (480 Mbps) and 1.1 (12 Mbps) devices. It works with high-bandwidth SuperSpeed USB 3.0 devices, such as external disk drives, high-resolution webcams, video surveillance cameras, digital video cameras, multi-channel audio and more. In addition, it supports fast charging for smartphones, tablets and iPad.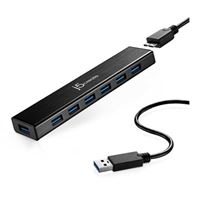 j5create JUH377NP USB 3.0 7-Port HUB
Usually ships in 5-7 business days.