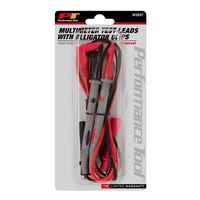 Performance Tools

Performance Tools Universal Multimeter Test Lead
Overview
Universal multi-meter test probes with insulated comfort grips. Slide-on alligator clips fit the probes for hands free applications. Includes protective caps for the probe tips preventing accidental shock risk. Leads are labeled with the & - symbols, and max test capacity of 1000V 10A. Rubber shrouded universal banana plug ends will fit most Multimeters. CAT II, CAT III rated 35 in. UL cables, approximate 41 in. total length.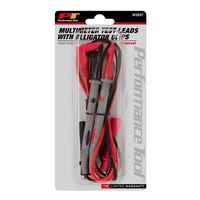 Performance Tools Universal Multimeter Test Lead
Usually ships in 5-7 business days.