Corsair

Corsair TM30 Performance Thermal Paste
Overview
CORSAIR TM30 thermal paste helps you push your PC to its limit, with a low-viscosity premium zinc oxide thermal material thats easy to apply. TM30s ultra-low thermal impedance ensures high-efficiency heat transfer between your hardware and cooler, lowering temperatures and allowing for higher clock speeds.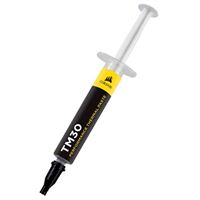 Corsair TM30 Performance Thermal Paste
Usually ships in 5-7 business days.