Corsair

Corsair Hydro H100i Platinum 240mm RGB Water Cooling Kit
Overview
The CORSAIR Hydro Series H100i RGB PLATINUM is an all-in-one liquid CPU cooler with a 240mm radiator and vivid RGB lighting thats built for extreme CPU cooling. Equipped with 24 individual RGB LEDs and a pair of CORSAIR ML PRO RGB 120mm PWM fans, the H100i RGB PLATINUM delivers the best-ever Hydro Series cooling, pairing killer looks with chiller performance.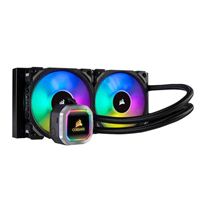 Corsair Hydro H100i Platinum 240mm RGB Water Cooling Kit
Usually ships in 1-3 business days.