Adafruit Industries

Adafruit Industries Non-Latching Mini Relay FeatherWing
Overview
This is the Non-Latching Mini Relay FeatherWing. It gives you power to control, and control over power. Put simply, you can now turn on and off lamps, fans, solenoids, and other small appliances that run on up to 250VAC or DC power using any Feather board. he are two 'flavors' of these FeatherWings, this is the simple Non-Latching relay. This Wing has a single Set pin. Normally, the relay's COM pin is connected mechanically to the NC pin and the NO pin is disconnected.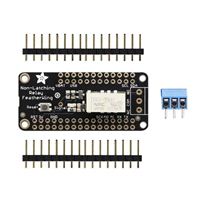 Adafruit Industries Non-Latching Mini Relay FeatherWing
Usually ships in 5-7 business days.