Logitech G

Logitech G G Saitek PRO Flight Yoke System
Overview
POV Hat, 14 button controls, and 3-position mode switch. Stainless steel yoke shaft and 2-position clamp. Comes with separate three axis lever throttle. Integrated 3-port USB 20 Hub. Windows 10 or later, Windows 8.1, Windows 7, XP / XP64, and Vista compatible. This Flight controller will work especially well in popular flight games such as Microsoft Flight Simulator.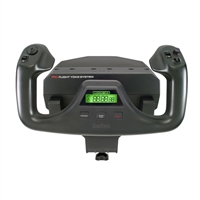 Logitech G G Saitek PRO Flight Yoke System
Usually ships in 5-7 business days.