QVS

QVS 2.5Amp 5.1v Switching Power Supply for Raspberry Pi B with Built-in 4ft Micro-USB Cable
Overview
This micro-USB power supply is designed to meet power requirements of Raspberry Pi Zero, Raspberry Pi 1 Model A /B , Raspberry Pi 2 Model B, Raspberry Pi 3, Arduino Yun, Arrow SmartEverything, Banana Pi, Bare Conductive Touch Board, RedBear Blend, Espruino, Flora, Gemma, Particle Electron/Photon, Snickerdoodle, and Trinket 3.3v & 5v. The added 0.1v on this 5.1v power suppply compensate for voltage drop due to cable resistance. Lightweight and compact, it is also a power charger for smartphones and tablets with Micro-USB port.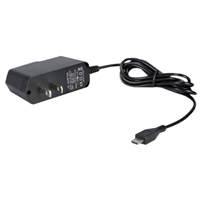 QVS 2.5Amp 5.1v Switching Power Supply for Raspberry Pi B with Built-in 4ft Micro-USB Cable
Usually ships in 5-7 business days.