Overview of USB Standards Connections and Functions
Description: This article will provide general information and history about USB standards as well as different types of USB connections.
USB stands for Universal Serial Bus, and is used in connections, communication, and power supply. USB has had 4 major releases since it was first introduced into the market, as well as some minor adaptations around those releases. USB ports and cables can be identified by the USB symbol pictured below.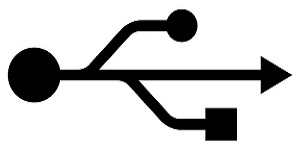 There are a couple of key points to understand about USB. USB Releases, as outlined below, have to do with speed and specifications. USB Connections, outlined later on this page, have to do with the physical connections, shapes, and sizes, of the USB cables and ports. Some USB Connections and some USB Releases cross over with each other throughout the overall timeline of USB technology to offer the best selection of features, functions, and benefits.
USB Releases
USB 4.0
Specifications Announced 2019
Also known as SuperSpeed+ and based on Thunderbolt protocols
Speeds up to 40Gb/s using certified cables
USB 4.0 ports and connectors are typically of the Type C variety
Backwards compatibility with USB 3.2, USB 2.0, and Thunderbolt 3 is supported
USB 3.2
Released 2017
Also known as SuperSpeed+
Speeds up to 20Gb/s using certified cables
USB 3.2 ports and connectors are typically of the Type C variety
Variations include Gen 1x2 (10 Gb/s) and Gen 2x2 (20 Gb/s)
USB 3.1
Released 2013
Also known as SuperSpeed+
Speeds up to 10Gb/s
USB 3.1 ports and connectors are often color-coded Teal or Blue
USB 3.1 ports and connectors can be of the Type A, Type B, or Type C variety
Variations include Gen 2 (10 Gb/s), later referred to as 3.2 Gen 1x1
USB 3.0
Released 2008
Also known as Super Speed USB
Speeds up to 5Gb/s
USB 3.0 ports and connectors are often color-coded Teal or Blue
Generally backwards compatible with USB 2.0 at the slower speed
USB 3.0 ports and connectors can be of the Type A, Type B, or Type C variety as well as a Micro B SuperSpeed variation
Variations later referred to as 3.1 Gen 1 and 3.2 Gen 1x1
USB 2.x
Released 2000
Also known as High Speed USB
Speeds can be 480 Mbit/s, but due to overhead effective speeds are 35 MB/s or 280 Mbit/s
USB 2 ports and connectors are often color-coded either black or white
Generally backwards compatible with USB 1.x at the slower speed, and USB 3.x at slower speed
USB 2.x ports and connectors can be of the Type A, Type B, or Type C variety
USB 2.x ports and connectors can also be of the Type Mini A, Mini B, Mini AB, Micro A, Micro B, or Micro AB variety
USB 1.x (now considered obsolete)
Released 1996, updated 1998
Also known as Low Speed USB and Full Speed USB
Speeds are 1.5 Mbit/s (Low Bandwidth or Low Speed) and 12 Mbit/s (Full Bandwidth or Full Speed)
USB 1.x ports and connectors are often color-coded either black or white
Can work with USB 2.x but at the lower speed
USB 1.x ports and connectors can be of the Type A or Type B
Back to the beginning
USB Connectors
Type A
Were designed to be connected to a host device, such as a desktop, or game console
Type B
Were designed for peripherals. For example, printers will have a USB Type-B connector most of the time
Mini and Micro
The various mini and micro connections are used in various smaller devices such as cell phones and digital cameras
Mini-USB connectors will mostly be found on older portable devices but are becoming obsolete
Micro-USB is the most popular USB connection for portable devices

Type C
The newest connection for USB is USB Type-C. Type-C is meant to replace previous connection types with a single connection
Support for up to USB 4.0 with speeds up to 40GB/s
Compatible with 3.0 and 2.0 with the use of adapters
Power output of 20V(100W) and 5A. This will allow future laptops to be USB powered
Bi-directional power so a peripheral device could power the host
No up or down position. No more flipping the cable around to find the right position

Back to the beginning
USB Technologies and Functions
USB On The Go / USB OTG
OTG was released in 2001 and enables USB devices to communicate with one another. For example, a smart phone can read directly from a USB flash drive instead of having to go through a desktop to transfer the data
Both devices can act as a host or peripheral so the data sharing can work both ways
Does not work through a standard hub
Device needs to be OTG compatible and use an OTG cable
May need to download a file manager app to fully utilize all features
USB Sleep and Charge
Sleep or Charge ports do not turn off during sleep or standby modes on computers, unlike normal USB ports which will disable when the computer is asleep
Mostly color coded Yellow or Red
May be identified differently depending the computer manufacturer
May need to be enabled on the computer
May also have a lightning bolt next to the USB symbol
USB Data Transfer Cable
Enables a user to transfer data from one computer to another, which a standard USB cable will not. These are not very widespread because there are easier ways to do this, such as a home network, flash drive, or Ethernet crossover cable
Back to the beginning