Upgrading to Windows 10 - New in Windows 10

Microsoft says that "Windows 10 is so familiar and easy to use, you'll feel like an expert". Why is that? Well, if you are familiar with Windows 7 and Windows 8.1 then you should recognize your first impressions of Windows 10 pretty well. This upgrade is not one of those drastic changes in appearance that some past upgrades have been. In fact, you will recognize many strengths of Windows 7 and Windows 8.1 as you begin to navigate through Windows 10 for the first time. So, familiarity aside, what is new with Windows 10? Let's take a look:
Desktop and Start Menu: What is new here is the way that these two familiar places look – together. The Start Menu has returned in an expanded and different format. The best features of the Windows 7 Start Menu and the Windows 8.1 Desktop have been combined into the new implementation of the Windows 10 Start Menu. Customized settings will carry over during your upgrade, and you are free to customize further after it is complete.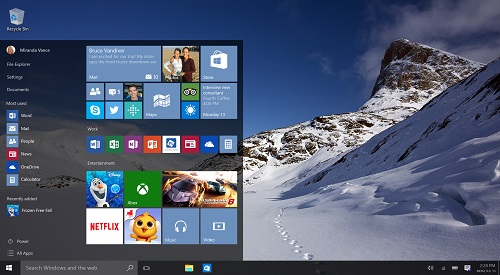 Cortana personal digital assistant: If you have used Windows Phone recently then you may be familiar with Cortana already. Now a desktop version of Cortana is included with Windows 10. Cortana can keep you organized. Cortana can help you search the web or your PC. According to Microsoft, Cortana can even tell you jokes if you want. You can communicate with Cortana by typing or by speaking into your PC's microphone. Over time, Cortana will learn your preferences and can customize how you use your PC accordingly.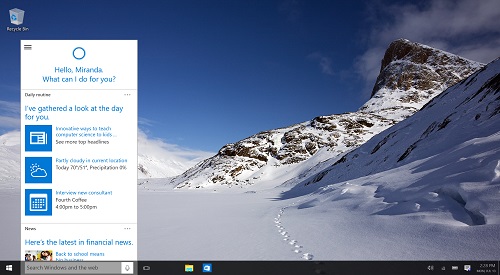 Microsoft Edge: Your internet experience can go to new levels with the new Microsoft Edge browser. In addition to faster loading and better handling of web pages, new options are also available to make notes, save clippings, and even integrate Cortana into your web browsing activity. Microsoft calls this "The brand new browser for doing". Microsoft Edge is said not to support many older legacy features that have hung around from one version to the next for the sake of backward compatibility, so it is possible some older designed websites may not work well with Edge, but early reviews are positive about the new Edge experience.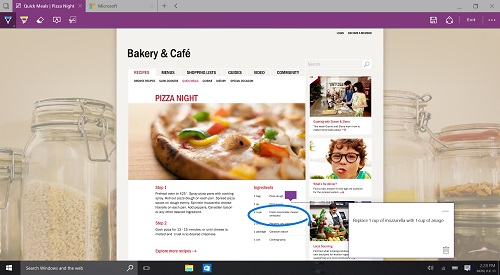 Some other new features to be aware of:
Improved multitasking: Snap up to four apps into place on a single desktop.
Xbox Live on the PC: Integrates several Xbox Live features with your Windows 10 device.
Flexibility: Windows 10 is able to adapt what you do to work on whatever screen you are on.
---
What's not in Windows 10?
Some may notice, others may not, but what is new with Windows 10 is also what is NOT included:
Windows Media Center: Once introduced as a separate edition of Windows XP and later included as a feature in subsequent versions of Windows, is no more. The Windows 10 upgrade will remove the Windows Media Center from your computer. Should you want to watch or record TV with your TV tuner card for example, you will now need to use stand-alone software for that purpose.
Windows 8 Charm Bar: Introduced with the new Windows 8 interface, it is no longer going to be found there. The features once associated with the Charm Bar will still be a part of Windows 10, but you will find them in other locations and not in that hidden bar that perhaps you had trouble finding anyway.
Native Support for DVD and Blu-ray Playback: This will not be included in this Windows 10 upgrade. This has been a trend in recent versions of Windows, but alternatives were available if, for example, you added the Media Center option – now with Windows 10 it just will not be there. Standalone DVD and Blu-ray playback licensing is available from third parties usually at a nominal cost, so the feature is not completely removed from possibility rather it just is not natively supported.
Microsoft Classic Games: Games like Solitaire will be removed as part of the upgrade process and are not part of the Windows 10 upgrade, but updated versions of the games will be available to download through the Microsoft Store.
Floppy disk drive support: ...is no more. There are workarounds, such as installing a USB floppy drive with its own driver support.
Desktop Gadgets: Windows Vista introduced gadgets and they carried over to Windows 7, but will no longer be available. Microsoft has indicated there were more vulnerabilities than benefits with some of these gadgets, and believes that Windows 8 and Windows 10 Apps have replaced the need for gadgets.