INFO: What is an Android App
Description: What is a app for the Android operating system.
Android-based devices can run small software programs that can increase the amount of tasks that you can do with the device. If you want to use the full potential of your Android device (Nexus 7 tablet for example) you can download apps to help with productivity, playing games, navigation, movies, or reading magazines or books. All of these apps (short for applications) can be downloaded and installed on your device from the Google Play store by clicking on the icon on your device.

The types of apps that you can run on your phone is only limited by the devices hardware capabilities. Most apps that come with the operating system allow you to browse the web, take pictures, listen to music and make phone calls. The apps that you can download from the Google Play Store that can increase the abilities of the phone, whether it be editing photos, watching TV or movies, or reading books.
Any app that you download has the potential to be a malicious app. You can have a good idea if you are downloading a malicious app by the permissions it is asking for. For example, if you are downloading an app to watch movies, it shouldn't' be asking you for permissions to see your recent calls, contacts, or use your webcam. The only permissions it should need is using your data on your phone and access to your SD card (if installed) to store information on. Be wary of the apps that you download and the permissions they ask for as some information you may not want the app to have access to.
Examples of program asking for Permissions:
OI Shopping list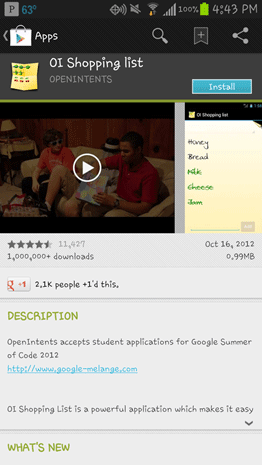 avast! Mobile Security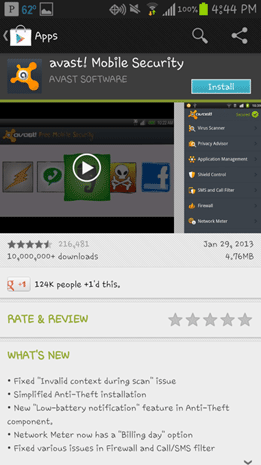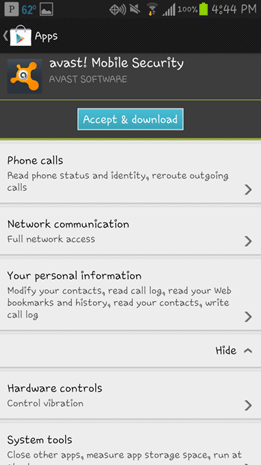 As you can see that the avast! app requests a lot more permissions to run; now this is not considered a malicious app since it is protecting your phone. Just keep an eye out for apps that request too many permissions and do not have the reason to.