Sorry, this item is no longer available.
Velleman 480 Piece Assortment of 1/4 Watt Resistors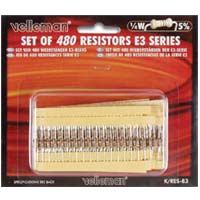 We're delighted you chose to shop with us. Our goal is for you to be completely satisfied with your purchase, so we've provided this useful information to help you successfully use and enjoy your new product.
Don't hesitate to contact us if you need assistance with technical problems or extra advice.
Until we welcome you back to our store, please accept our thanks for being a Micro Center customer.

SKU: 459198
UPC: 836479008267
Mfr. Part Num: K/RES-E3
High-quality carbon film resistors with a connecting wire that is easily soldered.
Support for Micro Center purchases
If you need help with products purchased from Micro Center, please contact one of our knowledgeable tech support reps using the online chat button below, or visit our Tech Support page for additional options and helpful information.
Chat with Tech Support

Tech Support Hours
Monday - Friday 9 am to 12 midnight
Saturday 10 am to 12 midnight
Sunday 11 am to 9 pm
Eastern Time
* excluding posted holiday hours
Free assistance is available for the first 90 days on new purchases, excluding internal hardware installations or networking support. Your invoice reference number will be required for free assistance.
Ask your Support Technician about additional options available through our exclusive Priority Care+ Program.
Walk-in Tech Support
As a service to our customers, Micro Center offers in-store technical support. Stop in any of our store locations during regular business hours, and our expert staff will be happy to answer your computer questions.
Compatibility
Netduino
BASIC Stamp
Propller
PIC Microcontroller
Beaglebone Black
Beaglebone
Arduino Leonardo
Arduino Nano
Arduino Micro
Arduino AtMega326
Raspberry Pi Model B
Raspberry Pi Model A
Arduino Duemilanove
Arduino Mega2560
Arduino Mini/Pro Mini
Digispark
Arduino Uno
Meta Description
High-quality carbon film resistors with a connecting wire that is easily soldered.