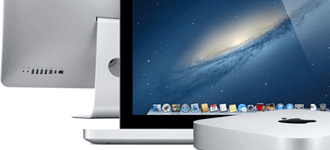 Mac, MacBook Mac mini
starting at
$99.99
Got something in the shop? Click here to check the status of your repair.

We've been an Apple Certified Repair Center for more than 30 years.
Our technicians are certified by Apple and have access to Apple's extensive online database of repair manuals, updates, specialty tools, and parts.

Need more help?
For technical help with hardware or software products purchased from Micro Center, contact our knowledgeable tech support reps by live chat, email, or phone.
You can trust an Apple authorized service provider.
We'll fix your Apple product with care and dedication.
Parts obtained directly from Apple
Access to comprehensive product, repair, service, and troubleshooting documentationart installation
Our Service Centers are here to help.
Service for all computer brands
OEM and A+ certified technicians
Most parts in stock
Fast, economical repairs
Helpful, friendly technicians
No appointment needed
Walk-ins welcome
We can repair systems under a manufacturer's warranty.
If your computer is still under manufacturer's warranty, we're factory-trained and authorized to repair:
Acer, Apple, ASUS, Dell, HP, Lenovo, MSI, PowerSpec and Toshiba.