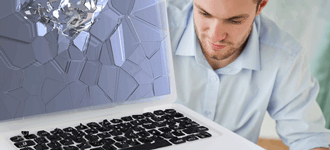 All Brands - a standard 15.6" LED screen starts at
$119.99
Prices may vary by model and screen size
Got something in the shop? Click here to check the status of your repair.

One stop. All Computer Brands. 100% Satisfaction Guaranteed.
Our helpful, friendly OEM and A+ Certified Technicians have repaired tens of thousands of computers. No appointment is necessary, and walk-ins are welcome.

Need more help?
For technical help with hardware or software products purchased from Micro Center, contact our knowledgeable tech support reps by live chat, email, or phone.
Our computer repairs are both thorough and affordable.
Each repair includes:
A full diagnostic scan
Virus scan
Part installation
Wipe down of unit and screen
Our Service Centers are here to help.
Service for all computer brands
OEM and A+ certified technicians
Most parts in stock
Fast, economical repairs
Helpful, friendly technicians
We can repair systems under a manufacturer's warranty.
If your computer is still under manufacturer's warranty, we're factory-trained and authorized to repair:
Acer, Apple, ASUS, Dell, HP, Lenovo, MSI, PowerSpec and Toshiba.