Intel®. Powerful, Mobile Devices.
The Intel
®

NUC. Maximized Performance. Small Footprint.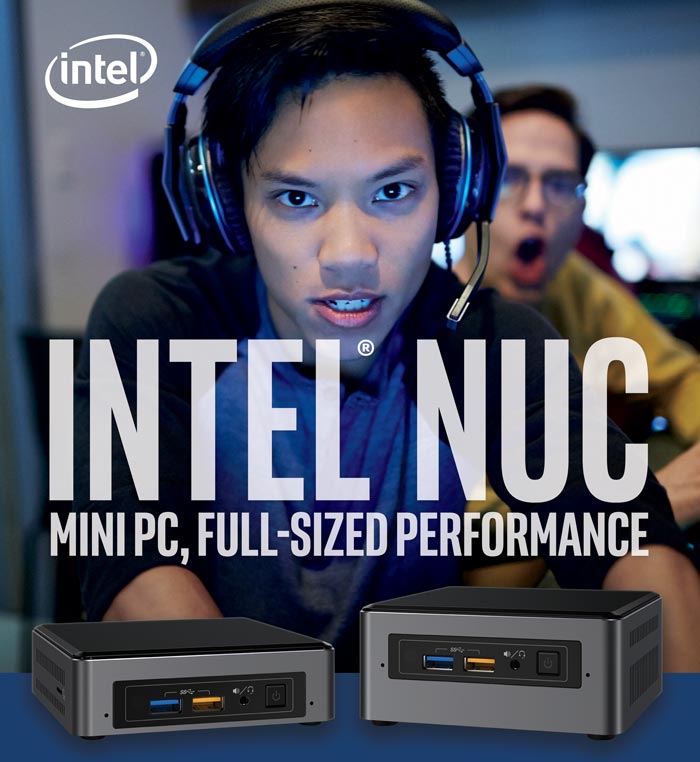 Play Hard and Fast with the Intel
®

NUC

The Intel® NUC Mini PC re-imagines the desktop PC into a pint-sized package. The Intel® NUC kit includes a customizable board and chassis - ready for your choice of memory, hard drive and OS.
The Perfect Fit for Home Entertainment, Gaming, Productivity - and more.
The Intel® NUC Mini PC brings computing to you and your spaces, from living room TVs to the workplace. Choose the Intel® NUC that's right for you.
PC Performance. Mobile Flexibility.
The Intel
®

Compute Stick.
It's not like a computer. It is a computer.

Just plug the Intel® Compute Stick into any HDMI TV or monitor, connect your wireless keyboard and mouse and you're ready to stream media, work or play games. The built-in WiFi and on-board storage enables you to be productive immediately.

The Intel® Atom x-Z8300-II Compute Stick delivers balanced performance for work or play with the Quad-Core Intel Atom x5 processor. This tiny device comes pre-installed with windows 10, so you can use your favorite applications.