Overview
The sequel to the highest-selling digital guitar interface ever made, iRig HD 2 represents the next stage in the mobile music revolution for iPhone, iPad, iPod touch, Mac and PC. iRig HD 2 sports a new 1/4 output jack for seamless live performance integration. An added switch allows dual-mode operation: FX lets musicians process and send their signal to an external amplifier without an adaptor. THRU sends a clean signal, letting musicians use their mobile device as a tuner, recorder or other utility. Much like its predecessor, the iRig HD 2 has an input gain control that can be adjusted to provide optimum sound quality when using different instruments and mobile devices. iRig HD 2 comes with AmpliTube, a powerful multi-effects processor with an integrated music player, a dedicated recorder, a tuner and a vast collection of ultra-realistic digital models of some of the most famous amplifiers and stompbox effects of all time. Now everyone can take their playing to the next level with iRig HD 2, the ultimate high-quality digital interface for mobile musicians.
The Ultimate High-Quality Digital Interface For Mobile Musicians
Features
First and foremost, iRig HD 2 simply sounds amazing. It features superior digital audio quality with premium 24-bit A/D converters and a 96kHz sample rate — the highest in its class — for a crystal clear digital signal that's free from noise and crosstalk. This pure high resolution conversion lets your guitar's natural performance tone come through loud and clear when playing and recording on your iPad, iPhone, Mac or PC.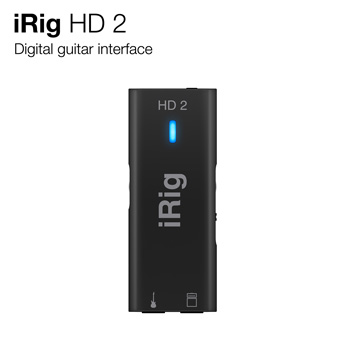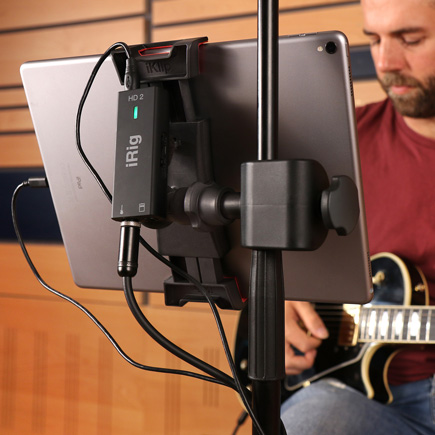 Amp Out Jack
One of the things that makes the iRig HD 2 unique is the ability to send your processed signal directly to a guitar amp without the need for special conversion adapters. iRig HD 2 features an unbalanced 1/4" Amp Out jack that you can use to send your processed or unprocessed guitar signal to an external amplifier, floor tuner or completely different rig setup for live performance. The Amp Out jack features a dual mode switch allowing you to choose what type of signal you want to send to your amp.
FX Setting
The "FX" setting sends your processed signal, or the sound coming out of your software/app to the external device. This is perfect when you want to use your iPad or Laptop as your effects pedalboard, your amp's front end or complete tone rig in a live setting.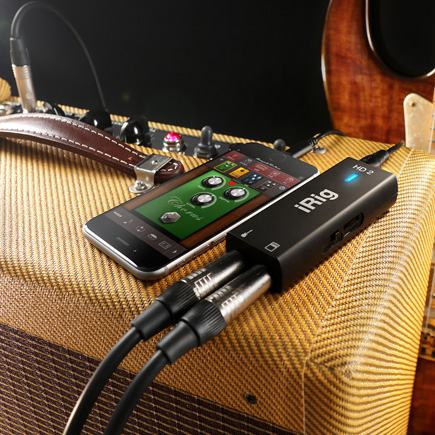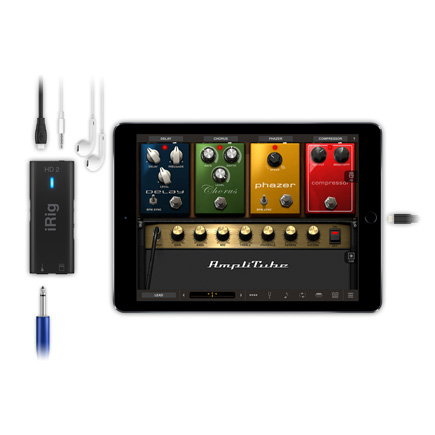 Thru Setting
The "Thru" setting sends your guitar's dry, unprocessed signal directly to the out jack, allowing you to use a floor-based or rack tuner, a pedalboard or even an additional full-on stage rig. Plus as an added performance feature, iRig HD 2 has an integrated microphone stand "clip" and Velcro strap so you can secure it to a mic stand on stage for live performance.