PowerA

PowerA MOGA XP5-X Plus Bluetooth Controller for Mobile & Cloud Gaming on Android/PC
Overview
Play Xbox games on your mobile phone or tablet from the cloud with the comfort and features of the MOGA XP5-X Plus Bluetooth Controller. Also play your favorite controller enabled Android mobile games with ease. Extend your gaming sessions at home or on the go with a built in Power Bank, detachable gaming clip, and the flexibility to play wired or wireless. This versatile wireless controller also optimizes your gameplay with the ability to map two additional buttons on the fly to gain a competitive edge. XP5-X Plus is prepared for the wave of triple A gaming now available for your Android phone, tablet, or PC.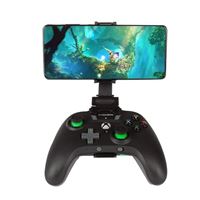 PowerA MOGA XP5-X Plus Bluetooth Controller for Mobile & Cloud Gaming on Android/PC
Usually ships in 5-7 business days.