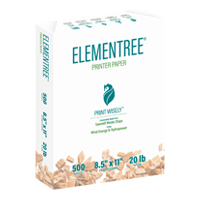 Printworks Printworks Multipurpose Paper

8.5" x 11" (Letter); 96 Brightness; 500 Sheets
Overview
8.5" x 11" (Letter)
96 Brightness
500 Sheets
Looking for an affordable copy paper that is sustainable for everyday use? Elementree Printer Paper is the affordable paper option for use at home, school and in the office. It is great for every day, read-and-recycle printing such as emails, reports, presentations, research, class assignments and more! And by, choosing Elementree, you are supporting a sustainable process that has a low impact on the environment as well as your budget! Wondering how? Elementree is made from sawmill waste chips with a pulping process that yields 50% more paper from the same amount of wood as compared to standard copy paper. The paper making process is also driven by wind & hydro power which uses 47% less water and generates about half the carbon footprint of standard copy paper. A low cost, low impact, sustainable printer paper that is thicker than normal copy paper. What a deal! Our eco-friendly paper features a high opacity which limits show through for double-sided printing that reduces paper usage/impact on environment. Smooth, finish runs easily on personal printers, high speed office laser printers, and inkjet copiers. PRINT WISELY with Elementree Printer Paper, the wise choice for your every day paper copying and printing need.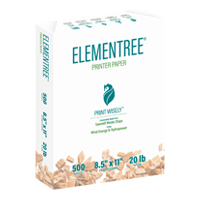 Printworks Multipurpose Paper

8.5" x 11" (Letter); 96 Brightness; 500 Sheets
Usually ships in 5-7 business days.