Overview
This innovative & unique rotating design concept provides the convenience & flexibility that cannot be found in a typical power surge protector. The Rotating Power surge protector is ideal for home and office environment. This product also provides a more organized setting and optimized the space usage of other connected equipment. All Rotating Power surge protectors consist of high joule rating with full 3-line protection against surges and voltage spikes.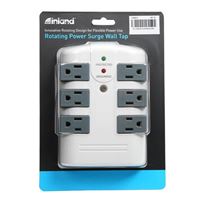 Rotating Power Surge Wall Tap 6 Outlets
Available for In-Store Pickup Only.