Kanto

Kanto PDX700 Full Motion Wall Mount
Overview
The PDX700 full motion wall mount is designed to give you flexibility and peace of mind when mounting TVs as large as 100 inches. Built to meet extensive UL safety requirements: its extra-wide wall plate and heavy-duty articulating arms comfortably support 150 pounds: even at full extension. Swivel your TV to accommodate angled viewing and tilt it to reduce glare and improve line-of-sight when mounting above eye-level. The PDX700 includes a drill template and an assortment of hardware for mounting to brick: concrete or wood-studs up to 24 inches apart. Integrated cable management and wall plate covers are also provided to ensure a clean: professional looking setup.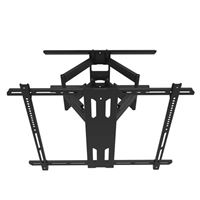 Kanto PDX700 Full Motion Wall Mount
Usually ships in 5-7 business days.