Arduino

Arduino Nano 33 BLE with Headers
Overview
The Nano 33 BLE (with headers) is Arduinos 3.3V compatible board in the smallest available form factor: 45x18mm! The Arduino Nano 33 BLE is a completely new board on a well-known form factor. It comes with an embedded 9 axis inertial sensor what makes this board ideal for wearable devices, but also for a large range of scientific experiments in the need of short-distance wireless communication.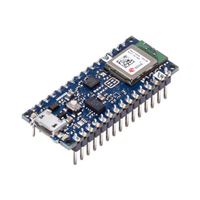 Arduino Nano 33 BLE with Headers
Usually ships in 5-7 business days.