Visiontek

Visiontek VT4000 Dual 4K Display Universal Docking Station (USB Types A or C)
Overview
The VisionTek USB Dual 4K Universal docking station allows you to easily connect your Windows, Mac OS or Chrome OS laptop to dual-4K displays and up to eleven accessories and peripherals through a single USB connection. This high-quality dock is a single-cable solution that enables you to take full advantage of up to three monitors and Ultra HD technology, even if it isn't natively supported by your computers video card. Featuring Plug & Play installation (without the need for drivers or additional downloads), you can easily turn your laptop into a complete workstation by adding peripherals such as a full-sized keyboard, mouse, external hard drives, printers, webcams and projectors.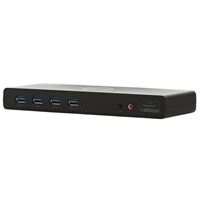 Visiontek VT4000 Dual 4K Display Universal Docking Station (USB Types A or C)
Usually ships in 5-7 business days.