Inland

Inland DHT11 Temperature Humidity Moisture Sensor Module
Overview
DHT11 is a Humidity and Temperature Sensor, which generates calibrated digital output. DHT11 can be interface with any microcontroller like Arduino, Raspberry Pi, etc. and get instantaneous results. DHT11 is a low cost humidity and temperature sensor which provides high reliability and long term stability.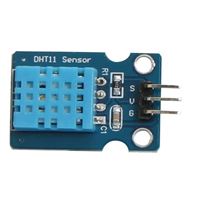 Inland DHT11 Temperature Humidity Moisture Sensor Module
Usually ships in 5-7 business days.