Adafruit Industries

Adafruit Industries PyPortal Pynt - CircuitPython Powered Internet Display - 2.4" TFT
Overview
The PyPortal Pynt is the little sister to our popular PyPortal - zapped with a shrink ray to take the design from a 3.2" diagonal down to 2.4" diagonal screen - but otherwise the same! The PyPortal is our easy-to-use IoT device that allows you to create all the things for the Internet of Things in minutes. Make custom touch screen interface GUIs, all open-source, and Python-powered using tinyJSON / APIs to get news, stock, weather, cat photos, and more - all over Wi-Fi with the latest technologies. Create little pocket universes of joy that connect to something good. Rotate it 90 degrees, its a web-connected conference badge #badgelife.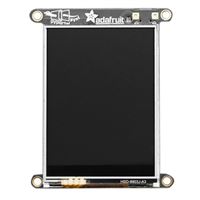 Adafruit Industries PyPortal Pynt - CircuitPython Powered Internet Display - 2.4" TFT
Usually ships in 5-7 business days.