Argon40

Argon40 ONE Aluminum Raspberry Pi Case
Overview
The Argon One Case is the ergonomic and aesthetic case for people to get into computers and electronics. Made with aluminum alloy and polished with gray finish, the case makes mini computers look modern, sleek, and stylish, easily attracting anyone into computers. Its minimalist design keeps cables in one area, and offers great cooling with properly placed vents. Ultimately, the Argon One Case combines functionality and futuristic aesthetics all in one package.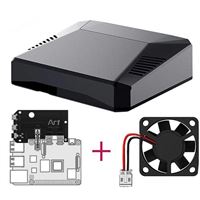 Argon40 ONE Aluminum Raspberry Pi Case
Usually ships in 5-7 business days.