PowerSpec PowerSpec G705 Gaming Computer

AMD Ryzen 7 2700X 3.7Ghz Processor; AMD Radeon RX 5700 XT 8GB GDDR6; 16 DDR4-2666 RAM; 500GB SSD
Available for In-Store Pickup Only.

Overview
AMD Ryzen 7 2700X 3.7Ghz Processor
AMD Radeon RX 5700 XT 8GB GDDR6
16 DDR4-2666 RAM
500GB SSD
10/100/1000 LAN + WiFi 5 WLAN
Windows 10 Pro
The PowerSpec G705 desktop computer is a powerful gaming machine featuring the AMD Ryzen 7 2700X unlocked processor, an ASRock B450 Pro system board powered by a 600W PSU, 16GB DDR4 2666 RAM, a 500GB NVMe SSD, and a Radeon RX 5700 XT 8GB Graphics card to provide an incredible experience playing the most demanding games in the market today! Note: This system is preinstalled with Windows 10 Pro software.
---
Eligible for Free Upgrade to Windows 11 when available from Microsoft
This device comes with Windows 10 and is eligible for a free Windows 11 Upgrade. The Windows 11 Upgrade will be delivered online to qualifying devices starting in late 2021 and into 2022. Timing will vary by device. Certain features require specific hardware requirements be met. See Microsoft Windows 11 Specifications and Requirements for additional information.
---
Be Fierce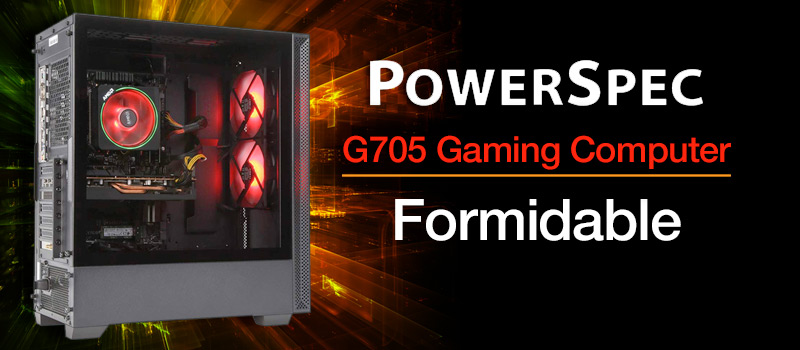 Great For Gaming, Streaming, Making Videos, And More
PowerSpec G-Series PCs are known for impressive power and performance for any task and the PowerSpec G705 delivers both and so much more. Its multi-core processor is well equipped to handle demanding projects and games while its feature-rich graphics card enhances your visual experience whether you're fighting aliens in far away worlds, streaming, or making family videos. The G705 is a powerhouse of high-quality components and superior technology including plenty of memory and storage for your important files and favorite photos all protected by built-in security features to keep your data and memories safe from harm.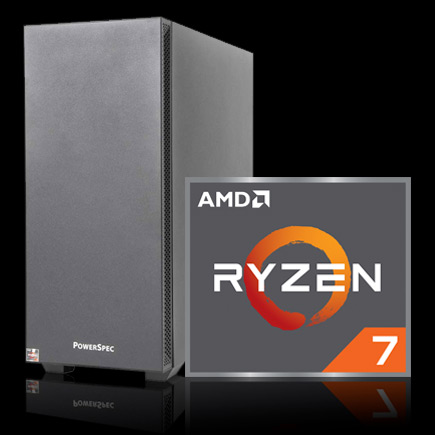 AMD Radeon RX 5700 XT 8GB GDDR6
When it's all about the game, The AMD Radeon RX 5700 XT delivers high-fidelity realism in every frame because it's built to render mind-blowing visual images and effects using Radeon Image Sharpening, FidelityFX, and VR technologies. With 8GB GDDR6 at 14Gbps, there's more than enough memory for even demanding games. And it's all accentuated with high-end power and performance. The RX 5700 XT boasts a base frequency of 1605 MHz and a boost frequency of up to 1905 MHz. Additional Features include AMD FreeSync™, The Vulcan API, DirectX® 12, Radeon Media Engine, and TrueAudio Next.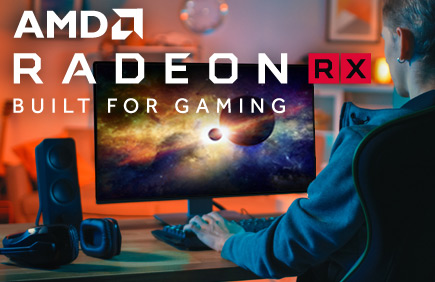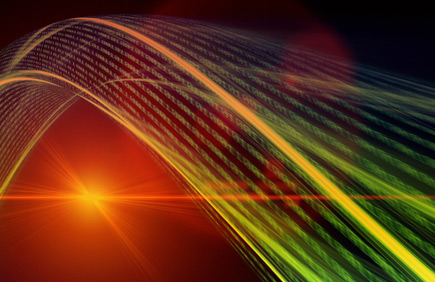 500GB Solid State Drive
More reliable and significantly faster than traditional spinning-platter hardrives, solid state drives work more like a large flash drive giving you quick access to your data. With no moving parts generating heat, solid state drives use less power and keep your system cooler which helps reduce component failure. Light weight and durable, solid state drives are often found in portable devices since they are less prone to travel damage and accidents like being dropped.
16GB DDR4-2666 RAM
DDR4 has improved function over DDR3 offering faster data transfer rates and more memory banks giving it increased capacity. It also requires less energy so it is more power efficient. The more capacity and the faster the speed, the better your memory is able to keep up with today's multi-core processors.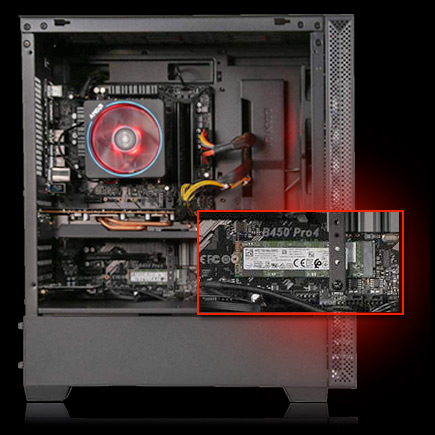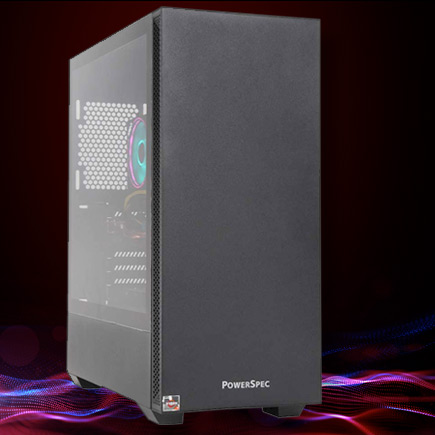 Other Features
Bluetooth® 4.2
Bluetooth 4.2 is more than two and a half times faster than its 4.1 predecessor. For you, that means faster content downloading. 4.2 also offers enhanced privacy features to help defend against those who want to track your online activities, unless you allow tracking on your device.
Realtek ALC892
This audio system offers a high performance 7.1 Channel support for 10 DAC channels and two independent stereo output channels. The ACL 892 supports DVD, HD DVD, and Blu-ray audio in addition to host audio from Intel chipsets and other HDA compatible audio controllers.
Lian Li ATX 205 Case
The Lian Li 205 demonstrates elegance and minimalism in its sleek design. Show off your build with its tempered glass side panel. Fit to house any component you desire. You dream it, you can build it in this case. From water cooling to custom fans!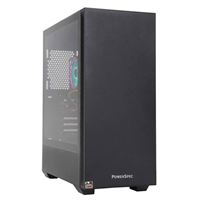 PowerSpec G705 Gaming Computer

AMD Ryzen 7 2700X 3.7Ghz Processor; AMD Radeon RX 5700 XT 8GB GDDR6; 16 DDR4-2666 RAM; 500GB SSD
Available for In-Store Pickup Only.